How the race was won: Northwest Classic Juniors Stage Race - Adin Jose
by Stefan Rothe
The Northwest Classic Juniors Stage Race is a premiere junior only event specifically tailored towards younger riders and their aspirations. Juniors around the Pacific Northwest, Canada, Oregon, Idaho, California, Idaho, Montana, Washington, Colorado and many other states have made this a must do race. RT athlete Adin Jose recently finished 3rd place in the USA Cycling Junior National Championship Road Race in his 13/14 age-group five weeks ago in Louisville, KY. After a little break, he also competed in the USA Cycling Junior MTB Nationals in West Virginia and spent a few days at 5000ft riding and racing. With another two weeks of light but specified training, he was rested and well-prepared for 2 days of stage-racing in Washington!
Stage 1 - 6 mile Time Trial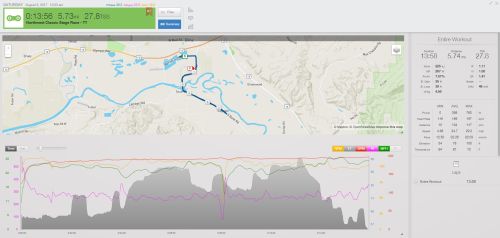 (click to enlarge)
One of Adin's specialties is time trialing and with no time trial bikes allowed in the Junior 13/14 categories it's a lot about pure physical performance and the correct pacing. For this flat (40ft of climbing) out and back TT Adin paced himself very well, with 270W on the longer, outbound leg (3.3miles) and 264W on the shorter, return leg (2.4miles). His average power equaled his normalized Power almost to the exact Watt, proof that you have to pedal all the time to win and he didn't lose any precious time and watts coasting. Also worth to note is his average cadence of 100+rpm for the entire TT and a well-paced HR of 189bpm throughout. Once finished, he had posted the fastest time in his age-group by 27 seconds and got to wear the Yellow Jersey for the afternoon Criterium later in the day!

Distance: 5.73 miles
Time: 13:56min
Avg. Power: 268Watts
W/kg: 4.58*
Avg. HR: 189bpm
Avg. Cadence: 102rpm
Avg. Speed: 24.7mph

*Adin's body weight: 135lbs
Stage 2 - 30min Criterium

(click to enlarge)
The afternoon Criterium saw the 18-rider Junior 13/14 field tackle a 0.6 mile course 15 times with a total elevation gain of 440ft for the sub 30-minute race. Adin raced aggressive when it mattered on the slight uphill on the Start/finish area where the attacks happened throughout the race. Yes, Adin ended up winning this race out of a smaller lead group but his max power numbers (1min @ 401W, 10sec @ 899W and max of 1054W) all came at the end of Lap 9 when the raced started to split apart, gaps opened up on the way to the S/F line for a mid-race prime. His maximum heart rate of 205bpm (Juniors!) was recorded at that crucial moment in the race as well. In order to win the race, Adin held a Normalized Power of 470W for 36 seconds (7W/kg) over .25miles and beat the 2nd place rider by almost a bike length for his 2nd win of the day.

Distance: 10.3 miles
Time: 28:14min
Avg. Power: 214Watts
Norm. Power: 279Watts
Max. Power: 1054W
Peak 1min Power: 401W
Peak 10sec Power: 899W
W/kg: 3.66
Avg. HR: 180bpm
Max. HR: 205bpm
Avg. Cadence: 94rpm
Avg. Speed: 22mph
Stage 3 - 25mile Road Race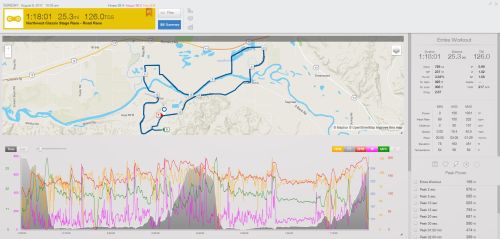 (click to enlarge)
The final stage of the race was a 25mile road race with a total of 925ft of climbing on a 2-lap course just South of Elma, WA along the Chehalis River. Adin didn't need to be aggressive in this race but with a lot of confidence and a healthy 32 second lead he still wanted to honor that Yellow Jersey and wasn't going to "just sit in". His peak 30-second power of 590W came at the first time up the Start/finish hill at mile 10.5 where he tried to attack once solo and another time with another strong junior rider in an attempt to escape the bunch. This failed, though and judging from the power graph and the difference between Adin's average and normalized power (~80W) you can see how he went hard or "all-in" when it mattered and otherwise just followed moves. A final attempt to ride away in the valley 6miles before the line had him ride 380W for one minute but to no avail. Thanks to some structured training with VO2max efforts and a few very intense 40/20's he recovered from that effort quickly, though: While he ended up losing the final sprint for the win of the Road race by half a wheel he did record his best 1-minute and 2-minute power (474W and 389W, respectively) in the last 2minutes of the bike race. It was a drag-race to the line and Adin didn't have that final "snap" to make it a hat-trick but two wins and a second place and the Overall Win are quite impressive!

Distance: 25.3 miles
Time: 1:18:01
Avg. Power: 156Watts
Norm. Power: 237Watts
Max. Power: 1031W
Peak 2min Power: 389W
Peak 1min Power: 474W
Peak 10sec Power: 825W
Avg. HR: 150bpm
Max. HR: 202bpm
Avg. Cadence: 90rpm
Avg. Speed: 19.4mph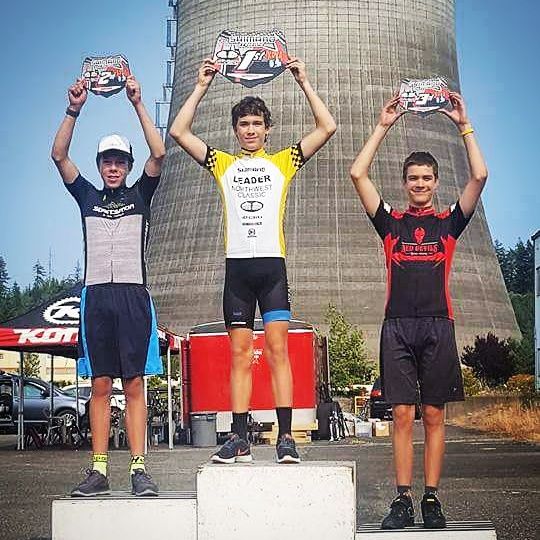 Congrats on a great weekend Adin!