RT News
Allen Abell is Master's Road Race World Championship!!!

August 27, 2017
St. Johann, Austria: - RAINBOW STRIPES for our athlete Allen Abell in St. Johann, Austria at the Radweltpokal Worlds today! He won the 50-54 Master World Championship Road Race in a 4-up sprint after 50miles of racing around St. Johann, Austria. Check here for more pictures and a video!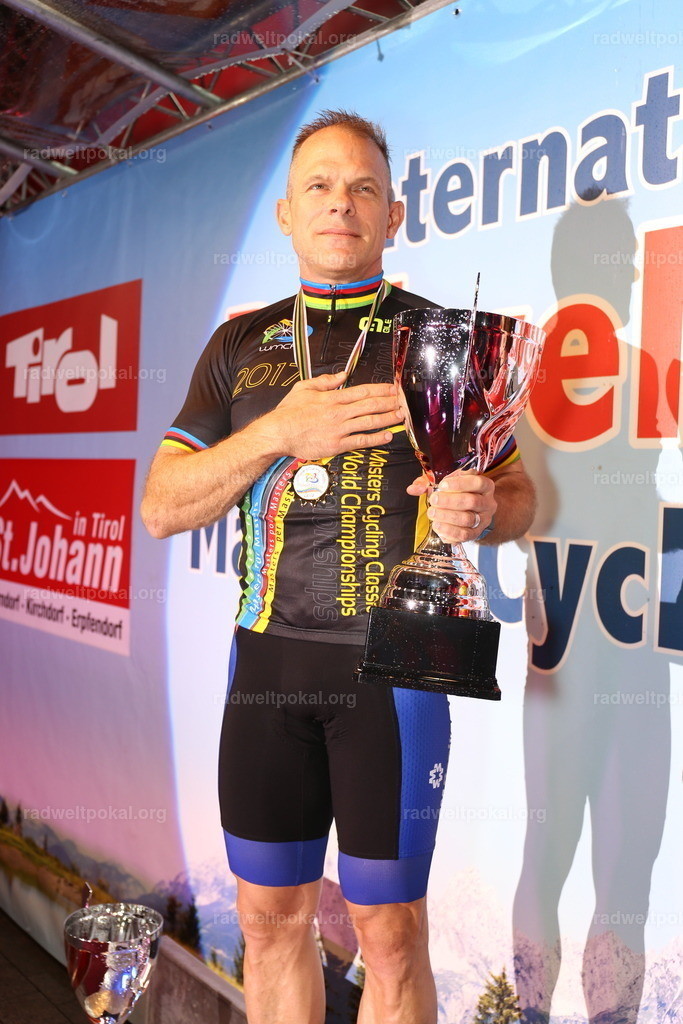 Allen Abell on the Podium after his big Win!
How the race was won: Northwest Classic Juniors Stage Race - Adin Jose
August 14, 2017
by Stefan Rothe
The Northwest Classic Juniors Stage Race is a premiere junior only event specifically tailored towards younger riders and their aspirations. Juniors around the Pacific Northwest, Canada, Oregon, Idaho, California, Idaho, Montana, Washington, Colorado and many other states have made this a must do race. RT athlete Adin Jose recently finished 3rd place in the... read the full article here!
ALLEN ABELL WINS US MASTER NATIONAL CRIT CHAMPIONSHIPS !!!
June 4, 2017
Augusta, CA - RT athlete Allen Abell just won his first USA Cycling Master National Championship by outsprinting his two break-away companions in the Men's 50-54 Crit Championship Race! After missing the early break of Chris Carlson and Daniel Casper, Allen bridged across solo to the two leaders and the trio stretched their advantage to the 70 rider pack up to 45 seconds at one point. Being confident in his sprint, Allen bided his time until half a lap to go and never looked to back to win his first National Championship ahead of fellow Texan Chris Carlson and Casper.

Check out this article in the Augusta Chronicle about Allen's race.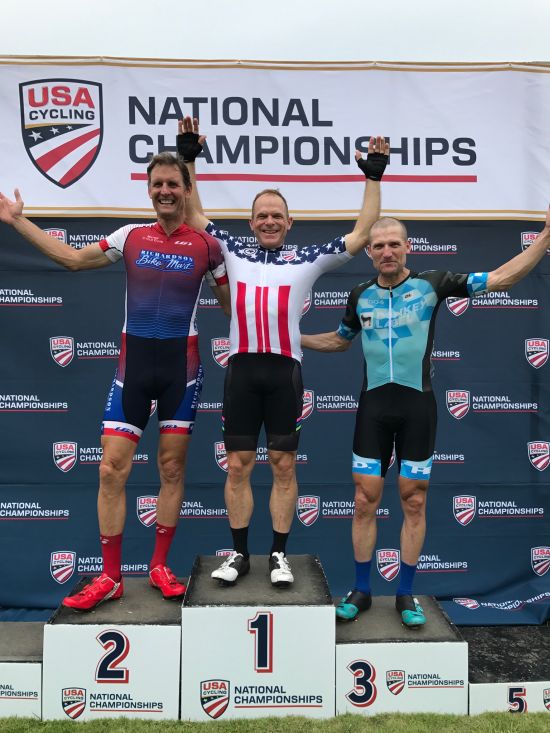 The Men's 50-54 podium at 2017 USA Cycling Master National Crit Championships
CAROLYN DEFOORE WINS USA CYUCLING MASTER NATIONAL ROAD RACE CHAMPIONSHIPS and Silver in Criterium Championships !!!

June 2, 2017
Augusta, CA - In her first time competing in a USA Cycling National Championship, RT athlete Carolyn Defoore WON the Women's 35-39 Master National Championship Road Race this morning! In the 58 mile Road Race, she powered away on the last climb 3miles before the finish and held off fellow Austin, TX racer Christie Harrison Tracy by 4 seconds.

Just 2 days later, Carolyn added a Silver medal to her Road Race gold, by finishing 2nd place in the field sprint of the Women's 35-39 National Criterium Championship race!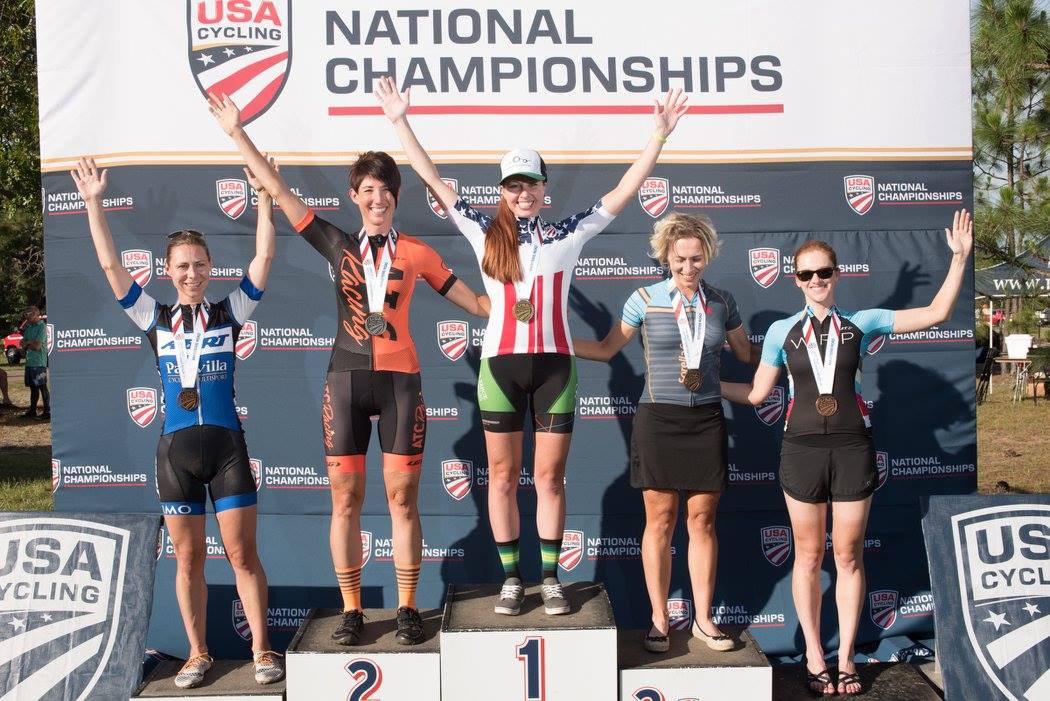 The 35-39 Road Race podium at 2017 USA Cycling Master National Championships
(photo: Weldon Weaver/USA Cycling)
Adin Jose wins Junior Road Race at Sea Otter Classic!

April 24, 2017
Salinas, CA - 13 year-old RT athlete Adin Jose WON the Sea Otter Classic Junior 13-14 Road Race on Satuday at the Mazda Raceway at Laguna Seca, CA!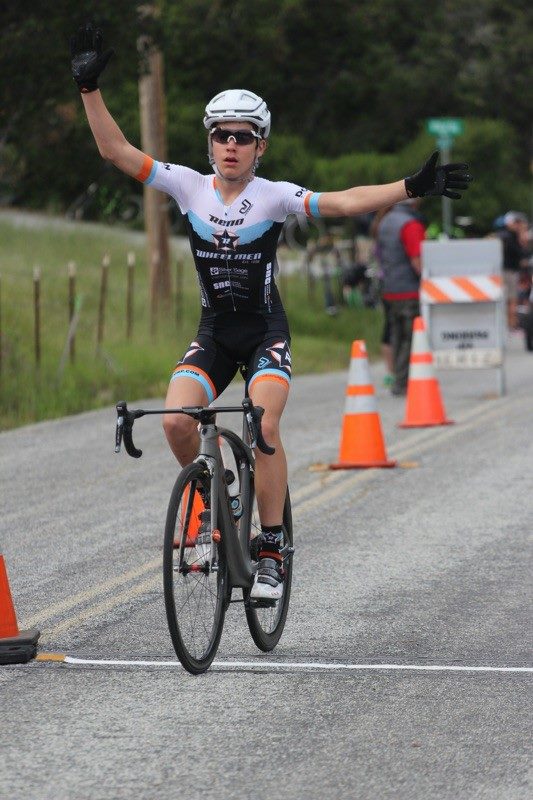 Adin Jose winning The Junior 13-14 race at Sea Otter!

Mike Stanley WINS and podiums at Matrix Challenge in Dallas!

April 10, 2017
BAM! After a 3rd place on Saturday, RT athlete Mike Stanley stepped it up and came home with the WIN in yesterday's Matrix Challenge Cat 4/5 Criterium in Dallas, TX!

Full results from this past weekend can be found here.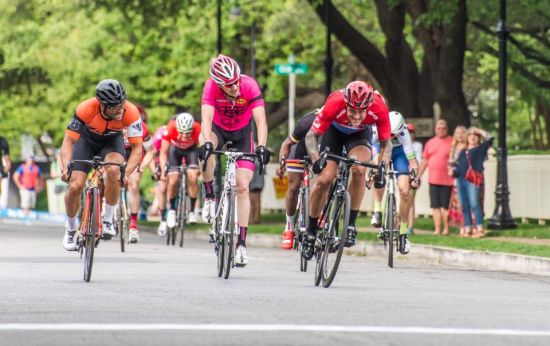 Mike Stanley winning the field sprint and his race at Day 2 of Matrix Challenge!
(photo: Kato Bentley)
Adin Jose wins Valley of the Sun Road Race!

February 19, 2017
RT athlete Adin Jose WON the Junior 13/14 Road Race at the Valley of the Sun Stage Race in Phoenix, AZ yesterday and finished 2nd in the Criterium today!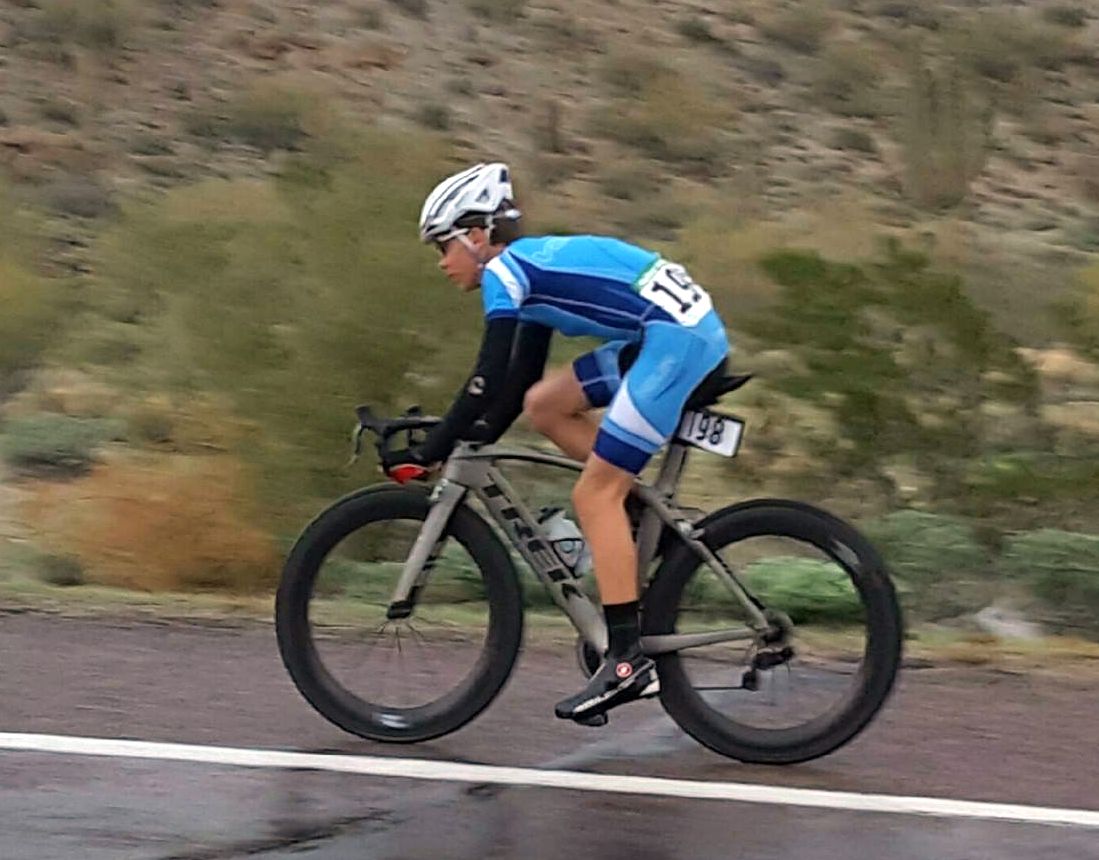 Adin Jose on the way to winning the Stage 2 Road Race solo!
Carolyn Defoore WINS Texas season opener at Oatmeal Road Race; fellow RT athlete Allen Abell 3rd in Men's Pro123's!

January 23, 2017
In her first race of the year, RT athlete Carolyn Defoore (Team Athlete Architecture scored her first win by sprinting to victory in the Women's Pro 123's at the Oatmeal Road Race yesterday in Oatmeal, TX! She won by several bike length after being in a 3-rider break for the majority of the race. Her teammate and fellow RT athlete Sheri Rothe sprinted to 3rd from the field and 6th place Overall in the same race.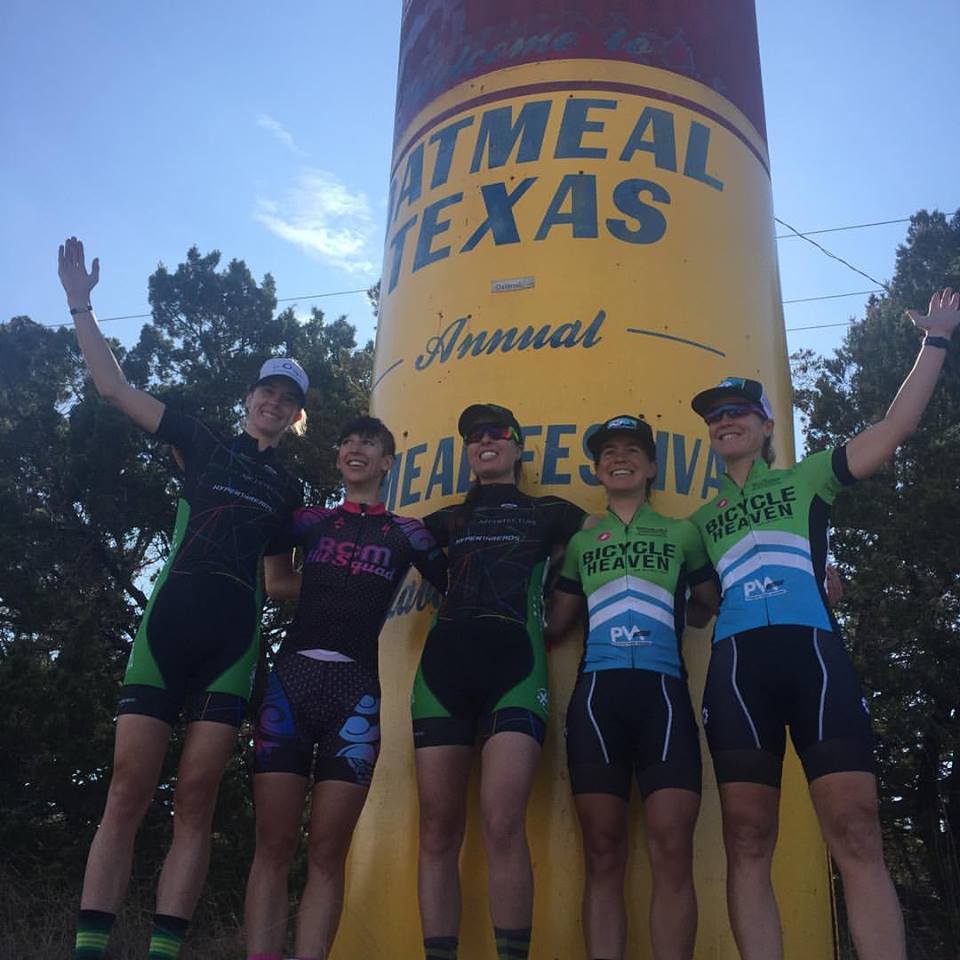 Women's Top 5. Check out a video of the winning sprint here on Instagram!
Meanwhile in the Men's Pro 123 race RT athlete Allen Abell (Bicycle Heaven) nabbed a solid 3rd place after being in the winning break for the majority of the 80mile race. Just like Carolyn, his 2017 road season is off to a great start!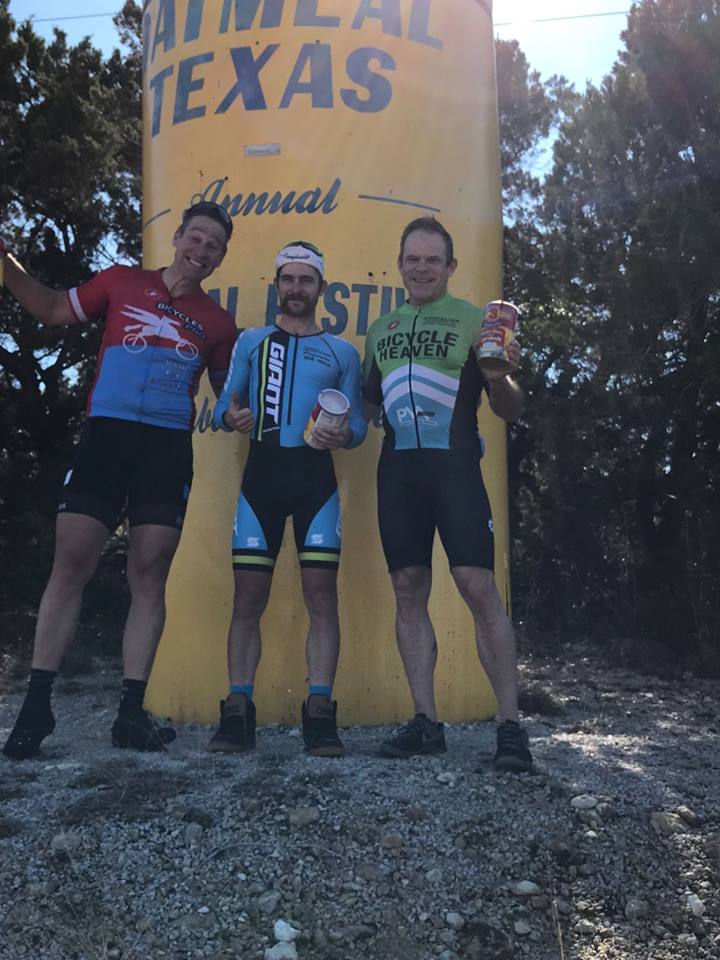 Men's Pro 123 podium (B. Crosby, T. Uhl, A. Abell)
Join ROTHE Training for early season Training Camp on Spanish Island

October 7, 2016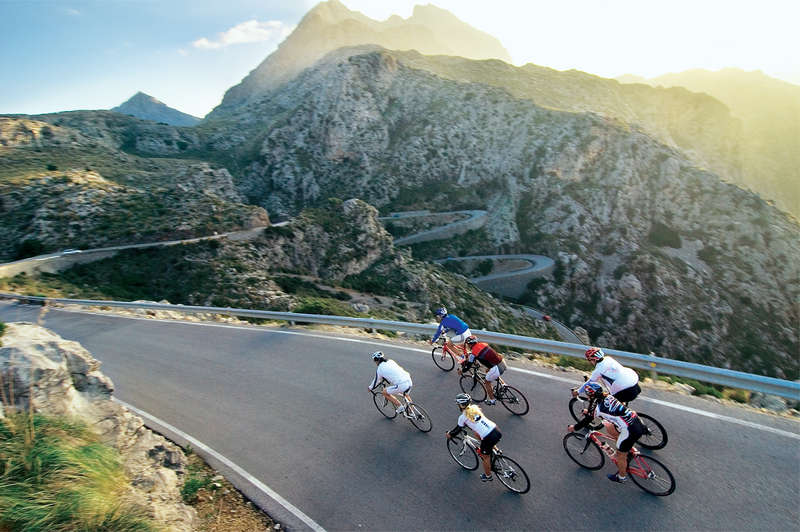 Join us in January 2017 for a week-long training camp on one of the most popular cycling hotspots in Europe: Mallorca, Spain!

A big tourist hotspot in the summer, Mallorca is a cyclist's paradise during the winter-month: Chose from Flat, rolling or hilly roads on this beautiful island in the Mediterranean Sea with temperatures averaging around 60F/15C in January. Many professional cyclists spend the early part of their pre-season training on Mallorca given the mild climate and great selection of quit country roads.

Dates:
January 2-10, 2016 (+/- 2 days depending on availability)

Find more detailed information here on our Mallorca Training Camp page!
Cindi Vargas earns 4 medals at USA Cycling Track Nationals!

August 13, 2016
RT athlete Cindi Vargas has been on the podium in every single race she entered at Master Track Nationals (Women's 45-49) in Indianapolis this week! A silver medal (and a new PR) in the 2K IP, a 4th in the 500m TT, a 3rd place in the Points, and another Silver medal in the Scratch Race last night!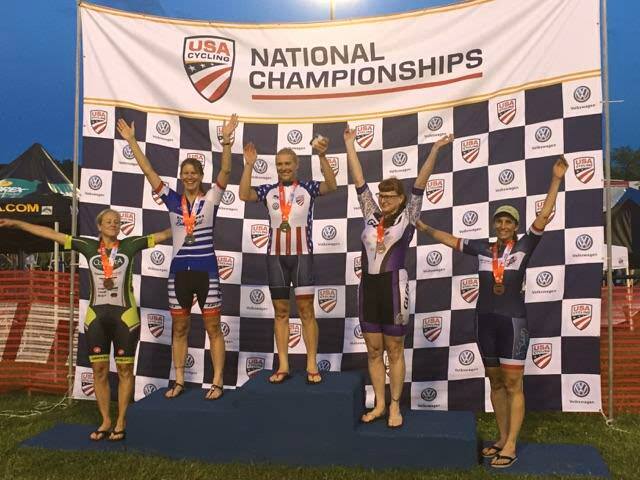 Cindi Vargas (2nd from left) with Silver in the Women's 45-49 Scratch Race!
New kits are here! VERGE Sport clothing now also available for purchase in our Online-Store!

January 28, 2016
We're happy to announce a new partnership with VERGE Sport as our new clothing provider. Check out some pictures of the custom kits below. We have limited amounts for sale in our Online-Shop here.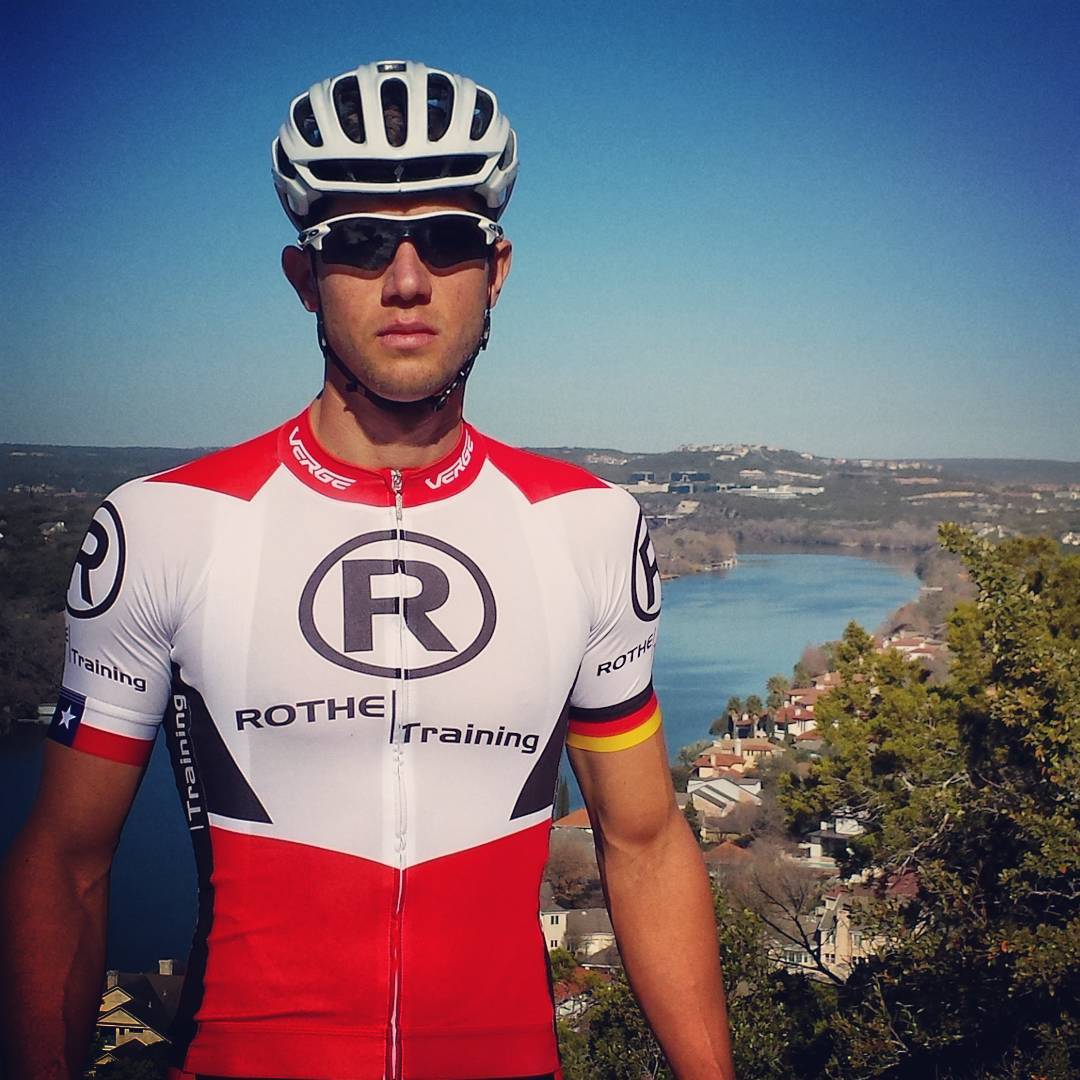 Colin Strickland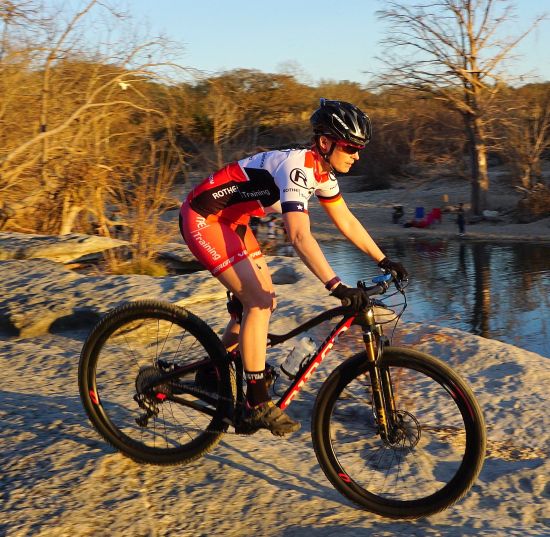 Amy de Boisblanc

Sensazionale- Colin Strickland wins Red Hook Criterium in Milan, ITALY!

October 12, 2015
First trip to Europe for Colin and he left his mark by winning the final Red Hook Crit of the year in Milan, Italy! Off the front, solo. Full coverage/results/video here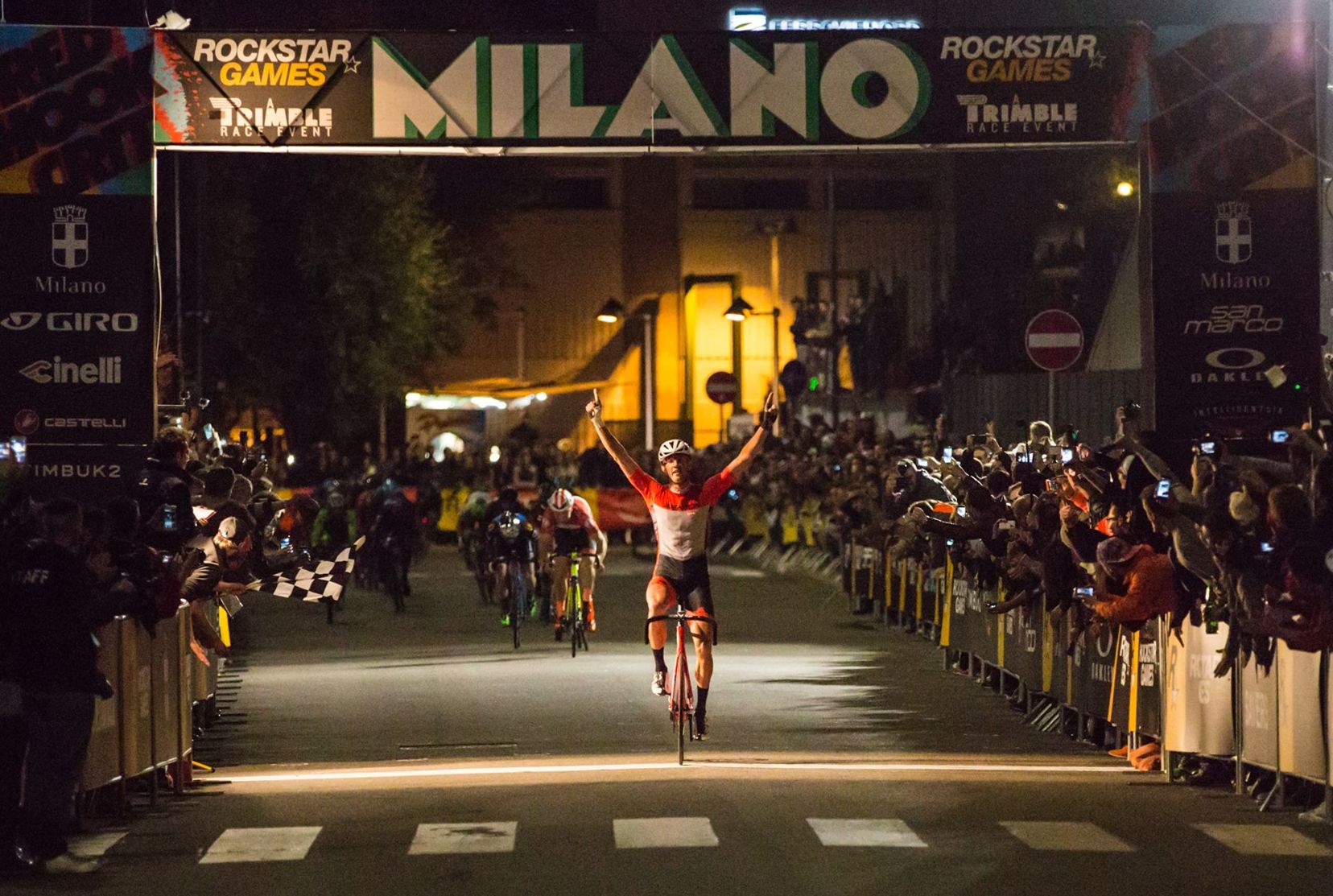 photo credit: Francesco Rachello
Breck Epic Diary, Stage 1, by Robert Biard

August 9, 2015
Brisk morning, it was mid 40s at the start. 350 racers lined up to race either the 3day epicurious or the 6day Breck Epic. The race format is a mass start each day, with a neutral roll out. Somehow I registered in the pro category, and therefore was able to line up in the front. In a Texas XC race I'd say no big deal there are a handful of fast guys that are going to beat me, but that's fine.
The lineup here is premier for a stage race: For the men you have World Champion Alban Lakata along with a few other Topeak-Ergon teammates - which swept the podium, Canadian national champion Cory Wallace, with Barry Wicks and Kris Sneddon, Carl Decker, and a few other pros. You also have the majority of the field from Colorado, which is a huge advantage. The minimum elevation was 9,600 feet, and there wasn't much time spent there, I think that was the warm-up. There was over 5,000 feet of climbing. There were 8 descents that were over a mile. The jeep road descents and single track were where I was at my best and most comfortable. That being said, you go downhill for 4 miles on a mountain bike at 11,000 feet you aren't rest for the next climb. I've never felt more tired after going downhill. It was an absolute blast, but also eye opening the effects of altitude on someone that lives at sea level. I finally was able to get my hear trate over 170 today, and that was when I was very fatigued, I didn't stop at the 2nd rest stop and eat anything. I won't make that mistake again. I'm in the hotel now relaxing. The bike is in the shop getting a post race tune-up. Stage races are all about food, water, and recovery. That's no different for mountain bike than road. Water is tough up here because you never really feel thirsty, I think the high for today was 60 degrees. I know this was long winded, and most won't be this long.
I guess the highlights for me were not getting passed by anyone on Singletrack, but passing a few both there and on jeep road descents. I only got beat by one woman that was wearing a skirt, I was beat by a number of other women.
I listened to the race promoters, and didn't dig too deep today. I had to walk part of one climb, but was able to ride everything else.
Read up on all the other stages here...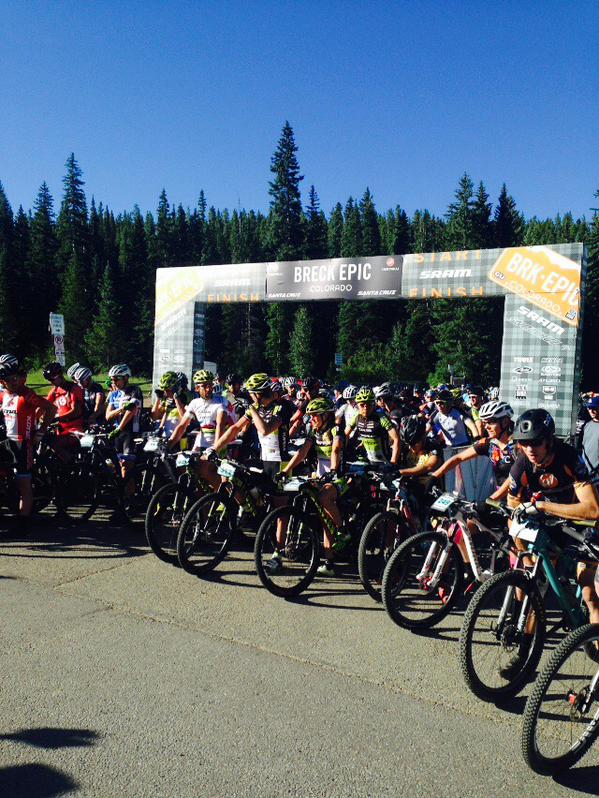 Breck Epic 2015, Solo Men Start Line
Adin Jose new Texas State Criterium Champion!

May 23, 2015
11-year old RT athlete Adin Jose won his first major race this season, taking 1st place in the Junior 10-12 Texas State Criterium Championships in Richardson, TX! Next big goal on the calendar are the US Junior Nationals (Road, TT< Criterium) in June at Lake Tahoe, CA!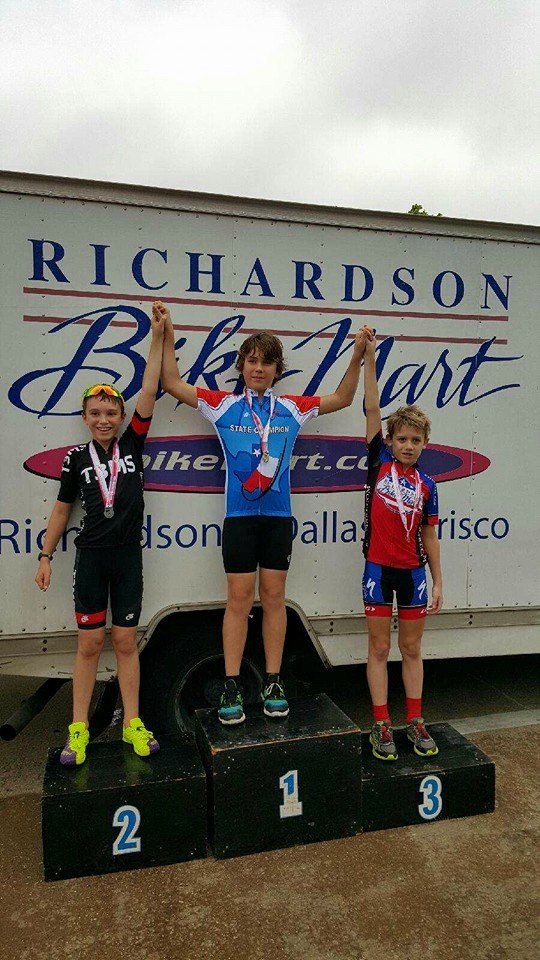 Adin Jose on the top step of the Junior Men 10-12 Podium
(photo: Kristin Jose)
USA Cycling National Cyclocross Championships - Paul Bonds wins Bronze

January 12, 2014
In the last - and biggest - race of a long Cyclocross season RT athlete Paul BONDS got his best ever result at US Cyclocross Nationals with a 3rd place in the 40-44 category last Friday. Congratulations Paul!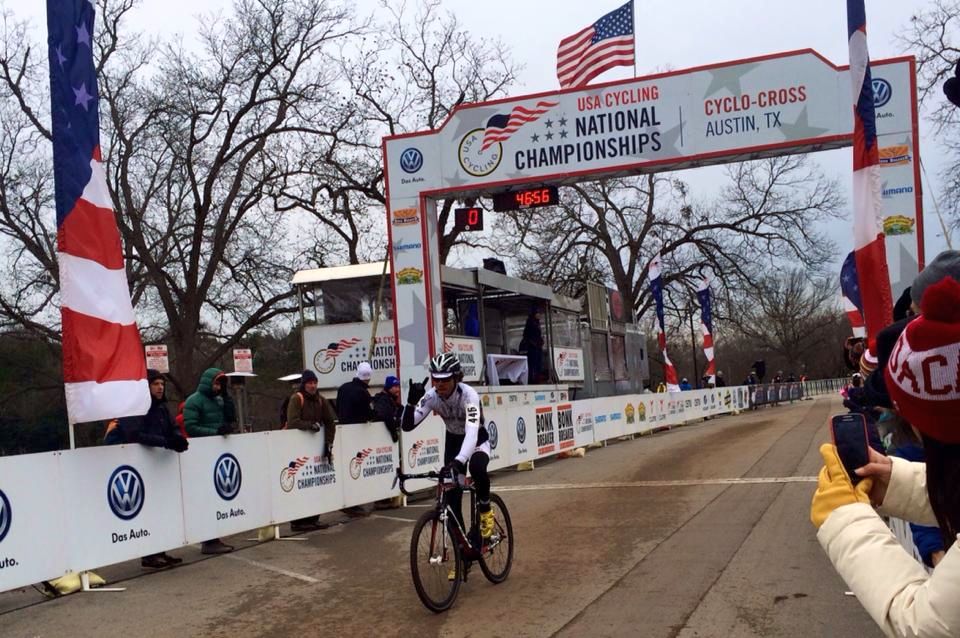 Paul Bonds crossing the line for 3rd place in the Men's 40-44 CX Nats.
(photo: Jessie Tsai)
Additionally, Marty Soetaert finsihed 11th in his first ever Cyclocross National Championships in the Master Men 55-59 category.
CycloCross Coaching Specials available now!

August 28, 2014
The Cyclocross season is only one month away and Texas is getting ready for the biggest CycloCross race in recent history - the USA Cycling National Cyclocross Championships held here in Austin, Texas in January 2015!

We are offering specific training plans and coaching packages for everyone (Junior, Master, Elite) geared towards local, regional or national competitions. More details and pricing info is available here under Cyclocross Coaching. Feel free to drop us an email (info@rothetraining.com) or call us at 512-203-2411

ROTHE Training athlete Paul Bonds in action
(photo: Corvin Alstot)
Tony Baca with 3 podiums at USA Cycling NCCA Championships!

May 6, 2014
RT athlete Tony Baca finished his Collegiate Cycling career with 3 podiums at the most recent USA Cycling NCCA Championships in Richmond, VA. A 5th place in the Div. 1 Team Time Trial, a 4th place in the D1 Criterium and a Top12 in the D1 Road Race netted him a 4th place in the D1 Men's Individual Omnium!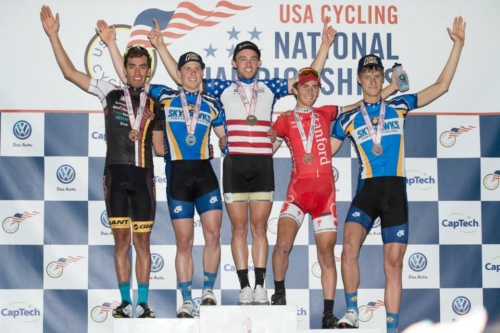 Tony Baca (far left) on the podium of the
2014 USA Cycling National Collegiate Cycling Criterium Championships
(photo: Weldon Weaver)
RT athlete Nathan Aikele needs your help!

April 15, 2014
Our athlete and friend Nathan Aikele, had a serious bicycle crash last week at the local Thursday Night Crit in Austin and is currently being treated at the hospital for the severe injuries he suffered. Nate, who most recently won the Corsicana Road Race and finished 2nd Overall in the Cat 3's, broke his wrist, multiple ribs, sternum and unfortunately also suffered a severed spinal cord which left him paralyzed as of now.
Nate with a random visitor ;-)
Nate, a Utah native who lived in San Antonio for the past two month, is only 7 weeks away from graduating Med School with a Doctor of Podiatric Medicine and had his residency planned at Colorado Medical Center in Greeley, CO. Despite everything he is in good spirits and has received great support from family, old and new friends and the local cycling community.

His sisters created a Funding Page to offset the cost for expensive rehab and physical therapy which will be next for Nate. You can help by visiting the page, leave a message or make a donation, too. Link: http://fundly.com/nate-for-the-win

Thanks!
Stefan Rothe
RT athletes go 1-2 in Tour of Corsicana Stage Race!

March 23, 2014
RT athletes Kent Myers (bottom, center) and Nathan Aikele (left) secured the top two podium spots in the Cat 3 General Classification at the Tour of Corsicana Stage Race this past weekend, respectively!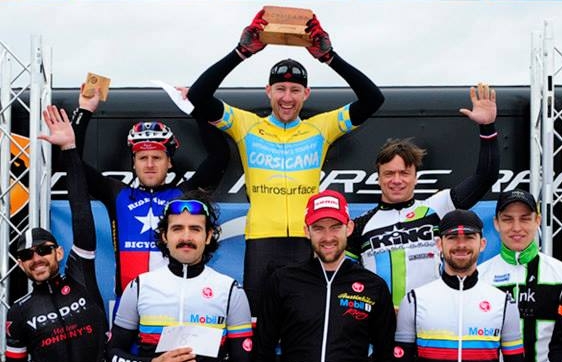 photo: Lee McDaniel
ROL Wheels Team visits ROTHE Training for Threshold Testing
January 29, 2014
The newly founded Austin-based ROL Wheels Team came in yesterday for performance testing a handful of their riders at Austin Tri-Cyclist. With the new season just a couple of weeks away it is important to check one's current performance/physiological ability by doing blood lactate testing using a CompuTrainer and a specific ramp protocol. The majority of the riders on the team never had done any kind of such testing so it was very important to a) establish a baseline and b) calculate proper Heart Rate (bpm) and Power (Watts) Training Zones. We're wishing the Team much success in 2014!

To find out more about the importance of Lactate Threshold testing check out our Testing page here or email us at info@rothetraining.com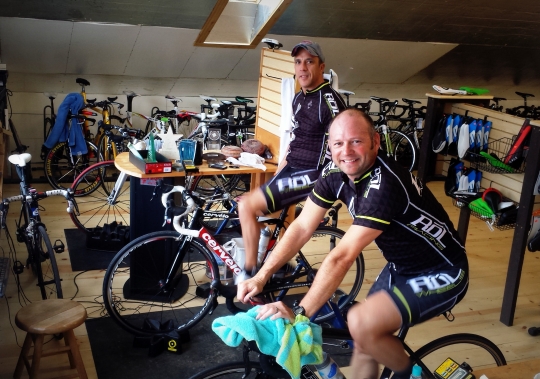 ROL Wheels team members Ron Medlock (front) and Todd Dugas all smiles before the testing
ROTHE Training partners with Texas State Cyclocross Championships
December 18, 2013
We're excited to co-sponsor the 2014 Texas Bicycle Racing Association State Cyclocross Championships hosted by Team Violet Crown Sports Association on January 4, 2014 in Webberville, TX! Save the date and download the official race flyer here. Pre-registration is open until January 2nd, 9pm CST on BikeReg here.
ROTHE Training to co-sponsor new Women's Elite Cycling Team
December 13, 2013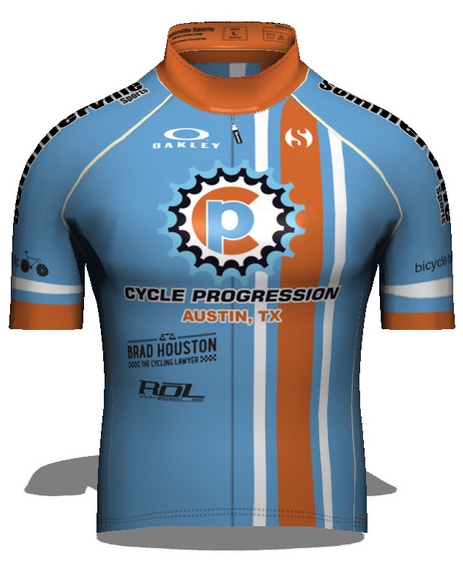 We're happy to announce the sponsorship of Austin's newest Women's Cycling Team: Cycle Progression Ladies Elite Team consisting of Austin's Sheri Rothe and Kathleen Hattaway! Sponsored by Cycle Progression Bike Shop, Bianchi USA, Sommerville Sports, ROL Wheels, PURE Austin, SKINourishment, Kenny Hill Autowerks, Whole Foods, Brad Houston Law, Oakley, Arundel Bike, Bicycle Trading LLC, and ROTHE Training.

The team will focus on the TXBRA calendar and select regional races in the upcoming 2014 season. We're looking forward to an exciting year for this new & local team! Check out the team's Facebook page here.

JT Cody 2nd Overall (Men) and Amy Parkinson 4th Overall (Women) at Austin Rattler 100; both qualify for the Leadville 100
April 14, 2013
The Austin Rattler 100, the first event of the 2013 Leadville Race Series, was a successful one for ROTHE Training athletes. JT Cody (Velocity Bike Shop), a past sub 7:45hr Leadville 100 finisher, scored a 2nd place behind race winner Tristan Uhl and also won his 40-49 age-group (see picture). Robert Biard (787) finished in 15th place.

Amy Parkinson (Thunderbird Energetica) was the fourth-fastest woman at the race and scored a 3rd place in her age-group even after a mechanical and 10min-stop slowed her down.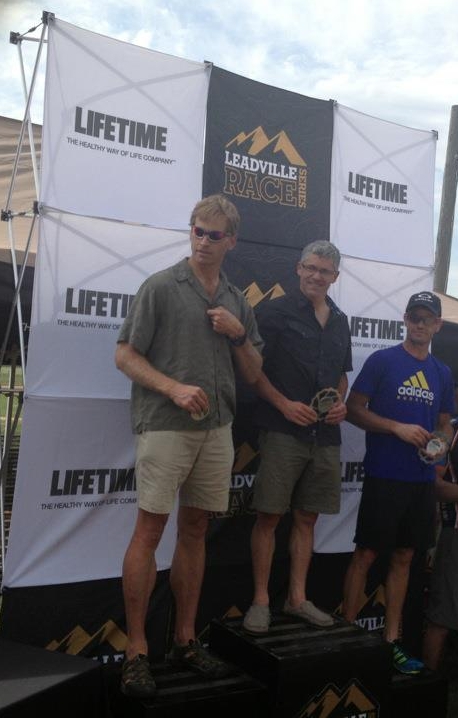 JT Cody, Winner AG 40-49 and 2nd Overall, 2013 Austin Rattler 100
CyberKnife of Texas Stage Race - Race Report by RT athlete and P/1/2 Winner Colin Strickland
April 7, 2013
by Colin Strickland

I arrived at the Cyberknife stage race with a good bit of confidence from my last timed stage race experience in Fayetteville (I tried to forget about the Waco Omnium, but only because I did poorly). I was a little less confident when I arrived at the start line and saw a full Super Squadra in attendance and a strong showing from Think Finance and PACC. Add in the wild cards Stefan Rothe, Brian Fawley and Andrew Dalheim of Bissel, and a podium GC finish looked like a tough fight. Being a Stage race, it appeared as though a strong result was going to take a bit of surprise and excellent timing to wrestle a podium step from the bigger names.
The road race began on a crisp morning at 7:30am sharp with a few early attacks that were quickly reeled in. I took a stab at a half-hearted solo effort early on (which no one cared to join). I quickly reached the conclusion that my legs did not feel very good as I was un-ceremoniously overrun by the peloton. I concluded that I should approach the rest of the race conservatively. Stay near the front and try to make it into a move with the magic mix.
I strayed from the plan slightly as we approached the time bonus sprint at the end of lap 2. With two riders safely up the road, the 1 sec bonus was up for grabs as the pack approached. I jumped off a slight lead-out at about 1K and committed myself to go for the 1 sec bonus. At 200m I glanced back and saw Andrew Dalheim charging up from the pack. I kept digging for the line, but Andrew blew by me with 15m to spare at twice my speed. This effort put me in the red for most of the third lap, and I followed fruitless moves without much confidence. I finished with the pack sprint in 8th place.
Nevermind the road race, I thought, as I geared up for the TT. If there's one thing in life I love, it's a respectable-length TT. I tried to pace myself a little better than I did in Feyetteville, and saving a few rounds for the uphill crosswindy finish. I felt very confident during the TT; consistently pushing forward but saving the all-out implosion feeling for the last 200m.
I was happy to learn that I had pushed up to 3rd in GC at the end of day 1. I sat less than a sec behind my coach Stefan Rothe and 14 sec behind Shane Haga of SSquadra.
Stefan helped me lay out my targets for the Crit, but secretly, my only target WAS Stefan. Actually, I was quite concerned about Caleb Fuchs (+1), Dave Wenger (+3) and Andrew Dalheim(+9) as well. I knew that I had to snatch myself one of the time bonus primes to move up or at least hold my current position.
Three laps into the crit, I decided to attack right before the conclusion of a prime lap while a solo rider dangled in front. Again, no one was interested in joining me off the front, so I set about opening up a large enough gap to last until the first time bonus prime came up a third of the way into the race. I pushed on alone for 3 laps and change at a punishing, but sustainable pace. When the bell rang for the prime lap I knew I had opened up a large enough gap to secure the 5sec bonus. I crossed the line and took note of the sprint for the remaining 3 and 1 sec bonuses. I then settled down and enjoyed some much-needed R&R.
Misfortune (?) struck with 5 laps to go. I broke a rear spoke on one of the less-gentle turns and pulled into the pits for a wheel-change.
I jumped back into the race just before 3 laps to go and worked my way back up to the front. Travis Burandt attacked (of course) with 2 laps to go, but only Stefan seemed to care. He quickly inspired me to care as well, and with half a lap to go I found myself rolling off the front towards Travis. I looked back and saw Shane Haga at the head of the chase and gambled that he would not risk chasing me. I assumed the TT position once more and pushed past Travis in the final crosswind stretch into the fast downhill tail wind section, and thru the last turn. I did not even consider a salute as I pushed through the up-hill headwind finish to the line. It felt great to finally make it onto the podium in a Pro/1/2 race, especially against such a stacked field of strong teams and individuals. Huge thanks to Division One Bike Shop and Rothe Training, who proved that you CAN compete with the best without abandoning your 9 to 5.
Amy Parkinson on a roll!

March 4, 2013
RT athlete Amy Parkinson (Team Thunderbird Energetica) made it two in a row this past weekend: Winning the Mellow Classic XC Race in Dripping Springs, TX, just a week after crossing the line in first place at the STORM Hill Country Challenge in Comfort, TX (both wins in the Women's Cat 1, 19-39)!

As the defending 2012 Texas XC MTB Championship Series Winner she's aiming to repeat so in 2013 and is currently in 2nd place in the 2013 Overall Standings, just 19 points away from the lead!

We're wishing her Good Luck for the rest of the XC season! There are 11(!) more races this year to come.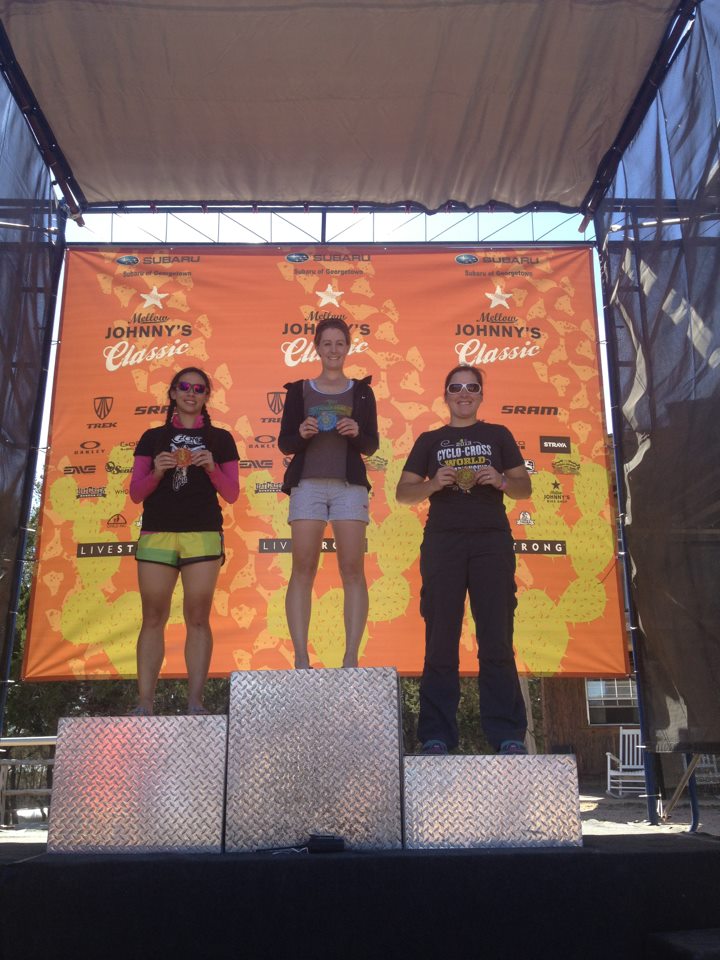 photo: De Boisblanc
Remembering Justin Addison

January 22, 2013
We are sad to report the passing of our friend and client Justin Addison of Covington, LA who passed away early this morning after a fatal bike/car collision yesterday.

I started coaching him when he was just 14 years old a couple of years ago. He was a very smart kid, very involved in his High School and local community. And talented on the bike, too like winning the 2011 LAMBRA State Criterium Championships in the Junior Open (see picture).

Be extra safe out there on the roads and keep his family and friends in your thoughts in this difficult time for them. He will be missed.

~Stefan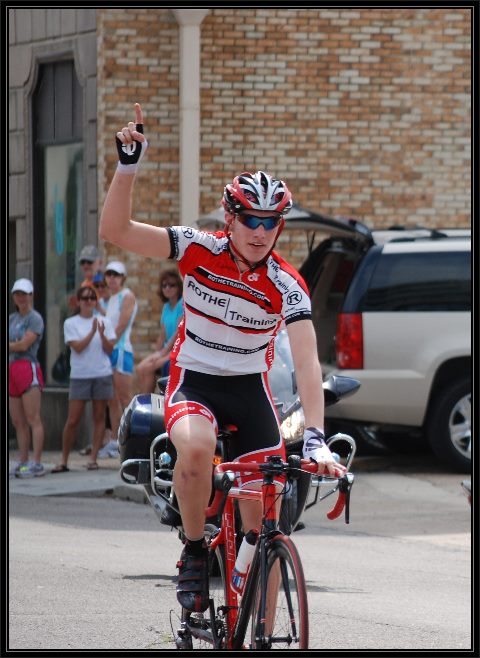 Justin winning the 2011 LAMBRA Junior Open State Criterium Championships
For News Archive (2008-2012), please visit our NEWS Archive page here