RT News (2009-2012 Archive)
Amy Parkinson wins MTB race in Laredo!

October 15, 2012
RT athlete Amy Parkinson took the win at the MTB XC at the Rancho Morales Cactus Cup in Laredo, TX yesterday. Congrats!


big win and big check for Amy Parkinson!
Cole Parker talks about his Hotter'n Hell 100 Win - THE RACING POST

October 1, 2012
RT athlete Cole Parker (Jack & Adams Racing) has his own page in the latest "The Racing Post" Cycling Magazine. Check out the interview and race report below (click on picture to view the .pdf file)!
Jen Purcell chats about her 3rd place at Herman Miller GP

July 31, 2012
Jen talks about here 3rd place finish at last weekend's Herman Miller GP. This interview originally appeared at CyclingIllustrated.com
After sitting out of Cascade, I missed racing with the team and was rested and ready to come back. Our team fielded 6 riders, and we started out strong, launching attacks early in the race. I countered a couple moves early on, and by 35 minutes out of 75, it was coming to a point where I needed to decide if I wanted to commit to an attack and plan to stay away. About 2 laps later my teammate, Amanda Miller, rode over to me and said, 'you need to go for it', this was all the confirmation I needed. I launched ahead and when I looked I was with Jade Wilcoxson of Optum. A moment later, there was National Criterium Champion Theresa Cliff-Ryan, and I knew we were in for an exiting race.

We had 17 laps to go and I had to play my cards right. My teammates were doing their jobs and holding down the fort in the field and I wanted to get a win for us; I knew there would be be no room for mistakes because I had very crafty company with me. We came to the last few laps and I was calculated about the work I wanted to do on the front; we had room to breathe with the gap to the field around 1 minute. Just as I was thinking about conserving around 2 laps to go, there were some games that started between the three of us like reluctant pulls and surges; we were all starting to watch each other. By the last lap, I wasn't in the ideal spot as I was on the front, and that was my mistake that was costly. The sprint started with Jade, then I jumped for her wheel, but Teresa quickly took control and had a running start at a very long sprint into the final 400 meters. At the end of the day, it would have been best for a win for TIBCO, but it was still a strong turn out for our team with almost all of us in the top 10. It was also a beautiful day and well run event at the Herman Miller Grand Cycling Classic. Thank you to all who coordinated & sponsored! Thanks for your interest!
RT client Scott Taylor checks in from France:
L'
É

tape du Tour 2012, Albertville - La Toussuire: 152km, ~16,000ft of climbing


July 16, 2012

The ride last Sunday was epic to say the least. You really don't know what you are in for until you are surrounded by 5000 other riders are struggling to get the Col de Madeline and finishing it and then you basically have to do the same effort twice more before you hit the finish line. The climb up Glandon was a bit sadistic since you could see the 11-12% grades you had to do to get over the top and it was a bit demoralizing. For good or for bad, I had a flat as I got near those steep spots and I was able to get a bit of rest while I fixed the tire, so made it over fine once I told myself to have fun. In general my stamina was pretty good considering I was stopping every 3miles or so when I was climbing the Vail Summit in Colorado in late May and for this ride I didn't really think about taking a short break until I had 80% of the climb done. As we started get nearing the end of the ride, bodies were starting to stack up along the side of the road since it was getting a bit warm...I think about 80% of the starters made it and I was probably around 75% percentile of the finishers based off the finish times, so I achieved my goal of surviving and not being picked up by the sweep vans. It was such a sweet relief to make it to the top of La Toussuire and ride in get my medal. I watched the race the following Thursday and the pros made it look easy since they basically did the same distance in about half the time. I would not hesitate to do the ride again & I had a lot of fun over the last 9 months since someone planted the idea in my head that I could make it. Now I'm thinking about doing a 1400K ride next year between London to Edinburgh and back in 5 days, but right now I'm just resting and taking it easy & will then decide if I'm serious about that or not.

I do want to thank you for training program since I do believe it made all the difference in the world in keeping me motivated and kept me on the bike where in the past I would made some excuse to not ride. Some of training days were hard especially towards the end where I think I was just wearing out....but if it was easy everyone would be climbing 16,404 ft over the Alps :-)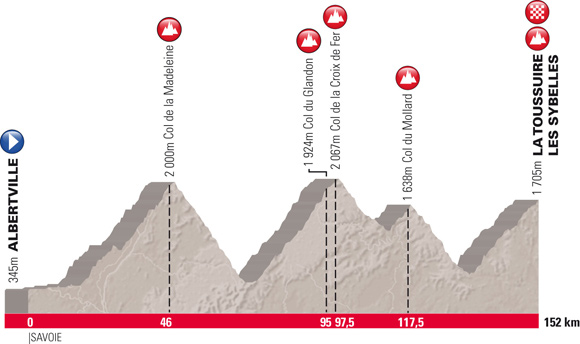 Stage profile, L'Etape du Tour, 152km and 16,000 ft of climbing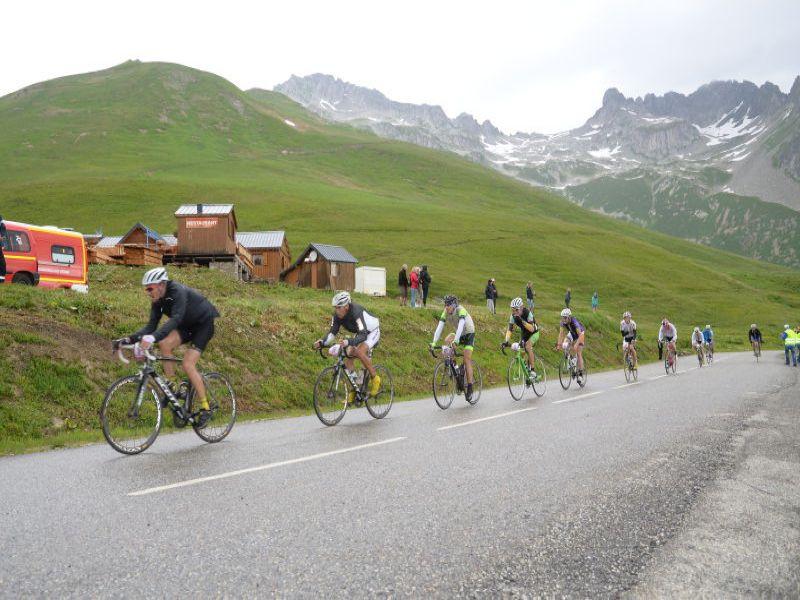 a cloudy & rainy day in the Alps
Team ROTHE Training wins Olympic Team Relay at CapTexTri !

May 29, 2012
Team ROTHE Training won the Olympic Relay (1500m swim, 40K bike, 10K run) at Austin's CapTexTri on Memorial Day! The trio of Scott Dill (swim, 22:06), Stefan Rothe (bike, 55:08), and Jeffrey Shelton (run, 32:40) finished in 1:52:33 (25min ahead of 2nd placed team) - and just 41seconds out of the best bike split of the day (ALL Pro/Elite/Amateurs), too! Thanks to Austin Tri-Cyclist for the support.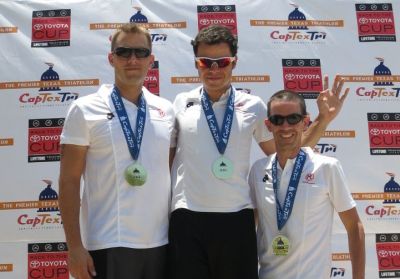 Catherine Moore makes it 3 in a row!

April 24, 2012
Catherine Moore scored again this past weekend, winning not only one but both Women Cat 3 criteriums at the Matrix Challenge in Dallas April 21 & 22. The back-to-back wins come just one week after a win at the King of Crits in Rockwall on April 14.

Each time, Catherine was the quickest in the field sprint and won by a bike length or more. Besides the Women Cat 3 race, she's also been a value team player in the Women Open races which are usually held later in the day. Both at Rockwall and the Matrix Criteriums she backed up here solid form by taking a 5th (King of Crits), 6th, and 7th (both Matrix) in the Women Open category just a few hours later.

Here's a video from Catherine's sprint win at the Saturday race of Matrix Challenge:
Jen Purcell blogs from Women's UCI 2.2 Energiewacht Tour in The Netherlands

April 4, 2012
Today's ITT was 15km in frigid conditions, winds, and panflat. It finished on the old bricks and tiny winding roads into the town of Appingedam, NL. Despite the freezing air it was still an experience of a lifetime, and still done in our bare legs (with really strong embro)! Each rider had a personal leading motorcycle and team car to follow. The DS spoke into the radio and guided us along the way saying stuff like "1,2..1,2... that's it! focus... focus..., sharp right off the bridge," it was greatness. The DS also took a video of our ride from the vehicle which will help me before the TTT to see what changes I can make in my pedal stroke and cornering. I wish my actual time trial bike could have made it. I did this on my road bike with a disc and clip-on's. To my relief, I wasn't last - still on the second page of 3 full pages of results.

Jen Purcell is currently in Europe with her trade team Team TIBCO and racing the Dutch Energiewacht stage race in preparation for another UCI Women's World Cup race, the Fleche Wallone, on April 18.
Jen Purcell with European debut this week in Netherlands

March 8, 2012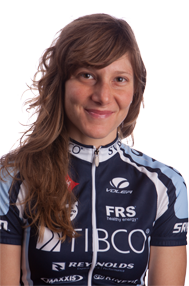 Today we had a good reason to celebrate: Jen Purcell (photo: Team TIBCO) did her first UCI Women's race in the Netherlands at Drentse 8 this morning. Also, it marked the first time one of our coached athletes participated in a UCI race in Europe!
She fared well in her first ever European race, finishing 26th in the "Drentse 8" after helping her Team TIBCO teammate Guarnier to a Top 10 finish in the sprint. The Dutch one-day classic was won by Aussie Chloe Hosking (Specialized - lululemon) ahead of Italian 2-time World Champ Georgia Bronzini (Diadora-Pasta-Zara), and Dutch multi-world champion Marianne Vos (Rabobank). She even got some sprint points and finished 6th in the sprint competition.
The biggest event on her 10-day European campaign is March 9th where she and her Team TIBCO riders will take on the first round of the UCI Women's World Cup - the 132km Ronde van Drenthe!
Bookman wins Mellow Johnny's Classic MTB race, Jerman 2nd

March 3, 2012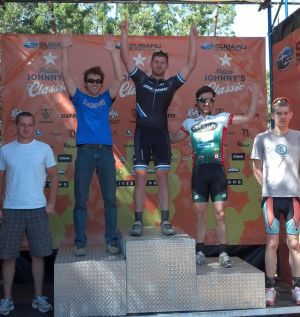 The ROTHE Training off-road crew a.k.a. Wes Jerman and Max Bookman (pictured right) struck again this past weekend at the 3rd Annual Mellow Johnny's Classic at Flat Creek Ranch just outside of Austin, Texas.
Being the leader in the 2012 Texas XC Mountain Bike State Championship Series, Max Bookman rode another perfect race to win his age-group in the Cat 1 category and subsequently widened his Overall lead. Meanwhile, Wes Jerman landed another podium place by finishing 2nd in his Cat 1 AG (30-39) to reigning US Master XC, Marathon & STXC Champion Ty Kady (Team Sho-Air/Specialized).
Jerman wins STORM Hill Country Challenge, Bookman scores first at WARDA, and 2nd at SHCC

February 27, 2012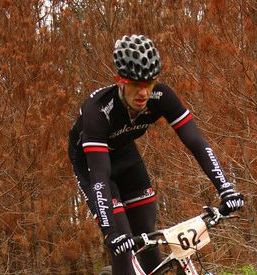 Two weeks after his 2nd place at the Warda Race, Wes Jerman takes the big win in the 30-39 AG (first Cat 1 Overall) at SHCC in Comfort, TX. On the other hand, Max Bookman (who did 72mile Walburg Cat 3 road race the day before) takes 2nd in the Men's 19-29 just two weeks after his win at Warda. Max is now leading the 2012 Texas XC Mountain Bike State Championship Series! Additionally, Paul Gerhardt took 4th in the 44-49AG (Cat 2). Congrats!


...Wes in full flight (photo: bobcat13)
Jennifer Wagner wins Alsatian Country Omnium

February 5, 2012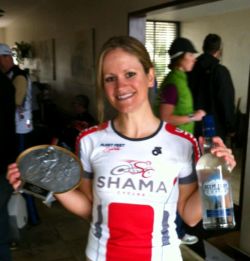 Jennifer Wagner - pictured right with her trophies incl. 1 liter of VODKA - is training with us for exactly one month and after a strong showing last weekend at Tour of New Braunfels (4th & 2nd) she claimed the top step this weekend at the Alsatian Country Omnium.
The 30minute circuit race on Day 1 ended with a slight uphill drag to the finish and she beat her 5 break-away companions in the sprint to the line. Just a few hours later, in Stage 2's 4.8mile Time Trial, Jennifer claimed 2nd place and extended her lead in the points-based Omnium.
And finally, in Stage 3's 28mile road race, she win yet again first in her category - this time in a bunch sprint to the line in some tough conditions with 46degrees and rain. Congrats!
More client results from this weekend's Alsatian Omnium can be found here.
ROTHE Training in the News - The Racing Post, February 2012

February 1, 2012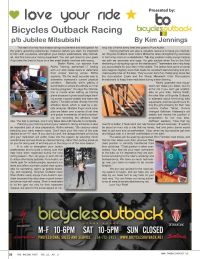 Check out the latest issue of THE RACING POST on page 20. Team Bicycles Outback pb Jubilee Mitsubishi rider Kim Jennings writes about off-season training, the importance on lactate threshold testing, and some other ways to stay fit in the month of October through February. You can download the pdf page here or simply click on the picture to the left.
Team Bicycles Outback Training Camp in Waco, TX

January 31, 2012
We are happy to support the ladies of Team Bicycles Outback pb Jubilee Mitsubishi in their maiden season of racing in Texas! Back in December, we already did some Lactate Threshold Testing with the riders and this past weekend it was training time on the roads East & West of Waco. Off-the-bike activities included dialing in their new gear (especially the new bikes by Calfee Design, calibrating Quarq power meters, a Q&A on training-specific topics and making Belgian waffles on Sunday morning and standing support for a local marathon held in town that weekend! Fun weekend of team-bonding. We are thrilled to see their progress and are excited for this coming season! For more pictures, click here.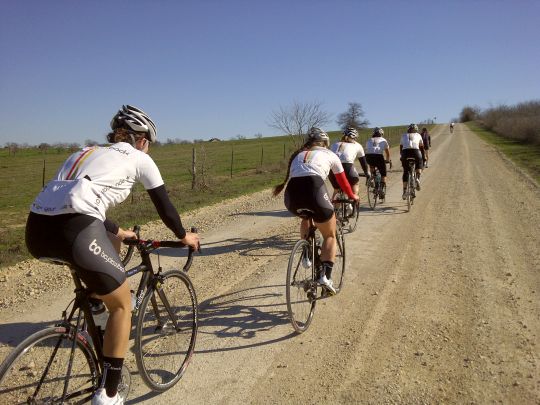 the girls testing out their new bikes on the gravel roads of East Waco
ROTHE Training visits Team Wooly Mammoth at Fredericksburg Training Camp

January 23, 2012
We visited the extremely handsome gents of Team Wooly Mammoth for their annual training camp just outside of Fredericksburg, TX. Besides some extensive time on the bike and a talk about how to become FAST(er) a lot of off-the bike fun was had this past weekend. Looking forward to seeing those guys excel in the peloton in 2012!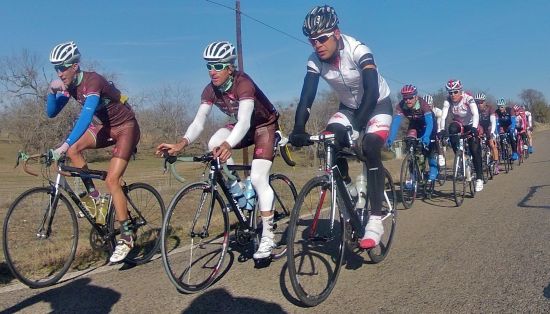 Guissepe Slatesonvald, Joot Lee, coach Rothe, Murdock & Jen Purcell (left to right)
picture: Lord Adam's Go Pro
Team ROTHE Training at Wooly Mammoth Ultra Provocatorio Invitationale

January 8, 2012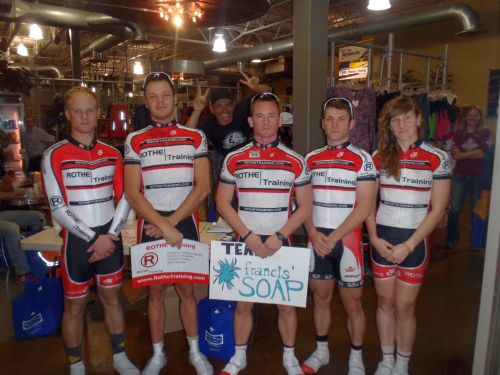 Francis Hamre, Stefan Rothe, Anthony White, Andrew Dahlheim, and Jen Purcell (left to right)
Just like last year, we had a group of athletes and friends participate in the 2nd Annual Team Wooly Mammoth Ultra Provocatorio Invitationale. The "Team Lazzzerz presented by Francis' Soap & Rothe Training" wanted to repeat the "win" from last years event. This year, though their was no timing but still the 24 teams of 5 riders each set off for a fun, grueling 85miles team-time-trial around South and South West Austin. After the dust settled, and 5000ft ft of climbing later the team got to take home the "Most Romantic Award". A great honor considering that Wooly Mammoth is setting the standard for romance in the entire cycling world. (photo: Mel Steele)
Wes Jerman and coach Rothe win Tour de Gruene Team Time Trial

November 7, 2011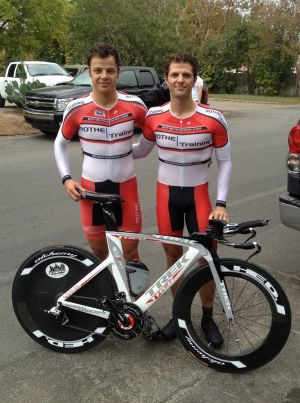 Cat 3 State TT Champion and RT client Wes Jerman partnered up with coach Stefan Rothe in what was their first participation in the Tour de Gruene Team Time Trial. The two of them stormed to the Overall win out of 250 teams, winning by 2+ minutes over second place.

The pairing of Stefan Rothe (30, Tulsa Tough) and Wes Jerman (30, Alchemy Racing) took the win at the 28th Annual Tour de Gruene 2-man Time Trial. The traditional end-of-season, time trial held on the roads along the Guadalupe River just North of San Antonio draw once again 250 teams in multiple age and skill-categories. Austin, TX residents Rothe and Jerman completed the 27mile course in 58:59 minutes and finished more than 2minutes ahead of second-placed team consisting of Jason Bentley and Michael Pincus in 01:01:38. Former US Postal & Telekom rider Kevin Livingston (38) and his teammate Stephan Hirsch (23) came in 4th place Overall (1:04:06).

The Tour de Gruene has a long history in the Southwest, with the first edition being held in 1984 and former winners include Lance Armstrong/Kevin Livingston and others. Back in 1996, Armstrong rode the TT together with Eddy Merckx; then just a month after his diagnosis for testicular cancer. Most recently, Armstrong and his friend John Korioth took the win in 2008.

But even without the former Tour de France winner present, the non-sanctioned Tour de Gruene weekend was a full success with sold out fields in the Individual and Team Time Trial events. TTT winners Rothe and Jerman never competed in the team event before but still came out ahead at the end of the day. "It's a beautiful time trial course. The most exciting TT I do all year. You race along the river, you got four or five bridge-crossings, plenty of turns, some climbing, fast descents and with a bit of rain and wind it was definitely a challenge." said Rothe. Jerman: "It's hard to find a rhythm like you would do in a traditional, 40K flat TT."
New Weekly Ride: Cyclocross with ROTHE Training!

October 10, 2011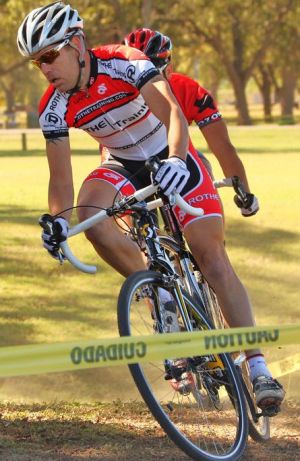 NEW! Our weekly Wednesday Cyclocross Ride from Barton Springs Pool start October 12, 2011, at 5:30pm this season. (We might adjust start time once DST ends Nov. 6)

This is a casual & fun, tempo ride and open to anyone. Some basic skills can be picked up of course :-) Cyclocross and MTB's welcome. We'll ride South of Zilker Park and later head East towards Gurrero Park. Route will alternate every other week. Ride time is approximately 1.5hrs. For your safety, bring a light for the ride back or home!

When: Wednesday's, 5:30pm roll-out (sharp!)
Where: Barton Springs Pool, 2201 Barton Springs Rd, Austin
Jen Purcell signs Pro contract for 2012 season with Team TIBCO Women's Professional Cycling Team

August 16, 2011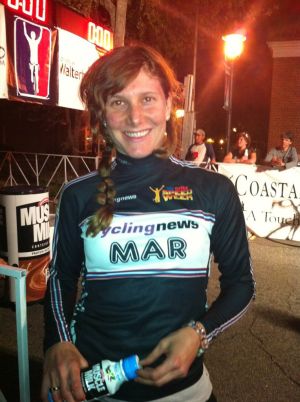 ROTHE Training athlete and Wisconsin-native Jennifer Purcell, officially signed today with one of the top Women's Professional Cycling Teams for the 2012 season. Next to HTC-Highroad and Diadora - Pasta Zara, Team TIBCO - To The Top is one of only 3 UCI professional women's cycling teams in the United States and a international powerhouse with riders from the US, Canada, New Zealand and Australia.

With her move into the pro-ranks, Purcell, who holds a Bachelor of Science degree in Radiology, showed that with hard work, dedication and the right training eventually the goal of becoming a professional cyclist is very realistic.

Purcell has been competing in (and winning) races since 10+ years. Alone in 2011 she impressed with a couple of podium finishes at the Redlands Bicycle Classic, a win at SpeedWeek, a 3rd place at Philadelphia Liberty Classic (behind reigning World Champion Giorgia Bronzini and Shelley Olds), a 4th at the USA Criterium National Championships and multiple other wins and podium finishes at regional events.

We are proud of her latest accomplishments and wish her Best of Luck for the 2012 season.
New Referral Rewards Program: Recommend a client, get Massage Therapy for free!

August 11, 2011
FREE Sports Massage:
That's right! If you refer a new athlete to us who signs up for a monthly Bronze, Silver, or Gold package we will reward you with a gift every cyclist can benefit from: a 1 hour massage or acupuncture session with Acu-Tissue Body Care - Austin's newest massage & acupuncture professionals (LMT, LAC)! That is a $65 value and redeemable within a year at their North Austin location.

Acu-Tissue Body Care, 12129 Ranch Road 620 N, Suite 540, Austin, TX 78750
$10 Gift Card to Caffé Medici:
If you refer a client to us who purchases a Bike Fit or does a Lactate Threshold Test with us we will give you some free joe! Austin's own Caffé Medici, now with 3 locations in downtown, offers their own Espresso Medici blend, traditional coffees, various teas, pastries & snacks, and whole bean coffee. That is a $10 value and redeemable at any Austin location.

Caffé Medici, 1101 West Lynn, Austin, TX 78703 (and 2 other locations)
RT athletes win State Championships, medals at Texas State Time Trials

August 1, 2011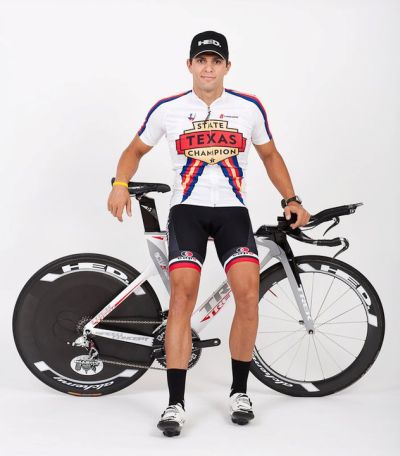 On Saturday, July 30, Wes Jerman (right, photo by DCM Photography) posted the 2nd fastest time of the day in the Cat 3's behind a rider from Tennessee to take home the Texas State Champion jersey. Fellow ROTHE Training athlete Kurt Joseph followed only 15 seconds down and got himself the Silver medal.

Nadia Barrera captured Silver in the Women's Cat 3 and shaved off 4 minutes from her previous PR for the 40K distance! Other notable results include a 4th place finish by Christian Bergh (Juniors), a 5th place by Greg Hercules, 8th by Cody Foster, and 9th by Ruarri Day-Stirrat (all Pro/1).

Nadia Barrera & Kelley Gomez were also part of the Bronze-medal winning Brain & Spine Women's team in the Women Cat 3 Team Time Trial Championships. Wes Jerman added another Bronze medal to his weekend trophies by placing 3rd in the Men's Cat 3 Team Time Trial Championships as part of the Alchemy Racing Team.

For all results from the State Championships, including Team TT results, please visit our Athlete Results page here.

(photo: Dave Mc Laughlin, DCM Photography)
Wes Jerman finishes 3rd on Stage 1, and wins Stage 3 of Tulsa Tough

June 13, 2011
ROTHE Training client Wes Jerman (Alchemy Racing Team) conquered "Cry Baby Hill" and soloed to victory on the last day of Tulsa Tough. He showed his good form already on Friday evening with a 3rd place finish in Stage 1. On Sunday, he rode away from the Cat 3 field to take a convincing solo win. Watch the finish video here:
Jen Purcell on the podium in Philly, scored 3rd place at UCI 1.1 TD Bank Liberty Classic in Philadelphia, PA!

June 6, 2011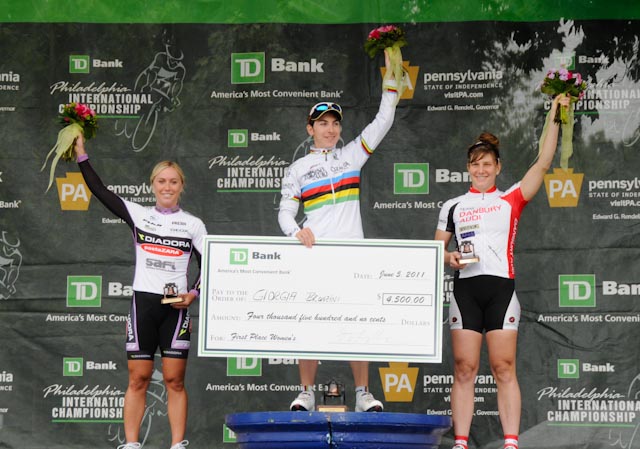 Jennifer PURCELL scored her biggest result so far by finishing in 3rd place at the 2011 TD Bank Liberty Classic, also known as "Philly". The UCI 1.1 ranked race on the streets of Philadelphia, PA, finished in a bunch-sprint of about 70 riders and Jenn launched her sprint first, only to be nipped on the line by reigning UCI World Champion Giorgia BRONZINI (Colavita Forno d'Asolo) and American Shelley OLDS (Diadora Pasta Zora).

Jen on her sprint: "The finish was a little sketchy and I was further back than I wanted to be, so I just launched it to avoid the swarm. I saw a gap and kept going. I saw that I was a little further out from the finish than I wanted to be, but I rolled with it and held it off at the podium. I just believed in my jump."

Congratulations to yet another stellar result this year! Next up for Jen is Tulsa Tough and the USA Cycling Elite National Championships in Augusta, GA, at the end of June.
Cody Foster reports from USA Cycling Collegiate Nationals

June 1, 2011 - published in The Racing Post, June 2011
Ten days before the Collegiate Nationals, I was staring at the weather for Madison, WI. In that ten day period, I saw snow, rain and cold in the forecast. I knew it was going to be cold, but now it looked like it would be cold, wet and miserable. Tom Matush provided us with host housing, though, and he made sure we were comfortable off the bike. For those that don't know, Tom is a former 7-11 rider who spent a few seasons racing all the spring classics in Europe. For dinner, he made an incredibly tasty homemade pizza from scratch. It was the best pizza I have ever had.
The morning of the race, we awoke to a beautiful 43 degrees, and it warmed up to 65 after we started. The race began with a neutral roll-out led right into a short climb. At the top, we took a turn onto the road course began a 6 mile descent. I always get a bit nervous on descents, but once I got the feel for my bike I was really enjoying leaning my bike over and hitting all the corners hot.
I was feeling good, so I decided I would attack on the fourth lap when we hit the long climb and then hope for a break to catch me. As I made my way to the front before the climb, I maintained a high tempo, but was still surprised when no one bothered to follow me. I looked back at the top of the climb, and there was only one guy in sight about 15 seconds back. I didn't expect to make it the entire last lap by myself, so I knew I would have to be smart about the energy I expended. As I predicted, a break containing three riders caught me. There were only nine miles left, but it included some good climbs. On the second to last climb, I could feel my legs losing power, and I knew what that meant. I had not brought nearly enough food and I was bonking.
I hit the climb with a lot less vigor, and me and one other rider were dropped. When the pack caught us, I tried desperately to suck down my last gel, but the damage was already done. My vision was blurring, and I knew that there was no way I could get up the finishing climb at race pace. In fact, I climbed so slowly I was zigzagging up the hill. Shane and I weren't happy with our results, but we still had the crit the next day at noon to find redemption.
The crit course wasn't super technical and there was no wind, so I told Shane just to sit and wait for the sprint. I really expected it to be a sprint finish. Shane stayed near the front, like a good crit rider should. When he floated back, I tried to make my way up, but didn't do that much work. I was saving it for the end. About halfway through the race, when a break rolled off, I wasn't really worried until I heard people screaming, "25 seconds to the break", lap after lap. There were four guys in the break, and Marion was doing a good disrupting the chase.
With two laps to go, I pushed my way to fourth wheel. I felt like a human pinball trying to maintain position. With two corners left, I accelerated over the incline ahead of the Marion lead-out train, put my head down and sprinted the last 300 meters uphill and into the wind. I watched Shane and another guy come around on my inside, followed by two more guys. I was crossing my fingers for Shane, who finished an impressive sixth. I ended up 11th.
It was a very fun trip all in all. Wisconsin is beautiful place and has some of the nicest riding you will find anywhere. Now I am back in College Station and relieved to be done with finals!

Cody Foster is a Junior at Texas A&M University and a member of the FCS Cycling Team. Cody is the current U23 Texas Time Trial State Time Trial Champion.
Jen Purcell with two Podium finishes at Redlands Classic NRC Race

April 3, 2011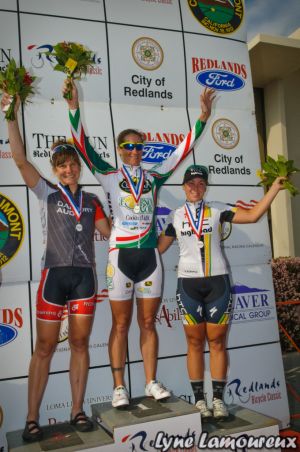 ROTHE Training athlete Jennifer Purcell showed some great performance at the most recent Redlands Bicycle Classic in California.
On the Stage 2 Road Race she finished 3rd to Theresa Cliff-Ryan (Colavita) and Christina Smith (Rouse) in a highly contested field sprint.
In Stage 3, a downtown Criterium in Redlands, CA, she went up one more step, finishing 2nd to Cliff-Ryan and ahead of HTC-Highroad rider Chloe Hosking.
Congratulations to an amazing sprint performance!
Jen's next target is Speedweek, a 8-race criterium series in Georgia, North & South Carolina, April 30 through May 8, 2011.
(photo: Lyne Lamoureux, podiuminsight.com)
Cody Foster 3rd at Redlands Classic Pro/1/2 Criterium

April 3, 2011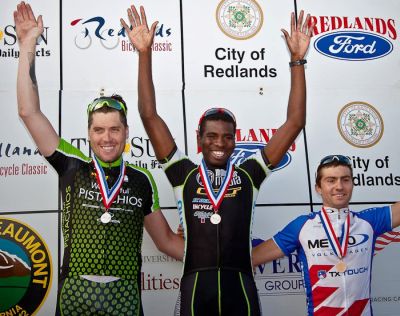 ROTHE Training athlete Cody Foster finished and outstanding 3rd place at the Redlands Classic Criterium, held in conjunction with the Redlands Classic NRC Stage Race in Redlands, CA.

The field sprint was bon by former U23 National Criterium Champion Justin Williams (Monster Media) ahead of Sterling Magnell (UCI Continental Wonderful Pistachios) and Cody took the final step on the podium. Congrats!
Jen Purcell wins big at XIII Rouge-Roubaix

March 13, 2011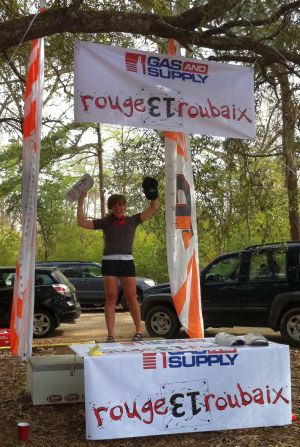 ROTHE Training athlete Jennifer Purcell scored a big win this past weekend at the 13th Annual Rouge-Roubaix Road Race in Baton Rouge, LA. After close to 5hrs and 105miles of racing including gravel & sand roads through the Northern Louisiana & Southern Mississippi forest she was able to win the sprint against 2010 Master National Road Champion Debbie Milne to take her biggest win so far this season.
We're looking forward for more good results coming from Jen in the next few month with national level racing starting off in California in two weeks with San Dimas Stage Race and Redlands Classic (NRC).
Carlo Villarreal: Valley of the Sun Diaries

February 28, 2011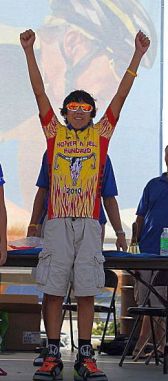 Recently I participated in the Valley of the Sun Stage Race in Phoenix, Arizona. It consists of a TT, Road Race and a criterium. I signed up for the 15-16 age category and it was the biggest junior field I've been in with a total of 39 riders. My goal was to target the time trial with a time in the 32 or 33minute range for the 14.4mile time trial. I find that very possible for me to do but it wasn't my day for a time trial. I ended up finishing my whole bottle of water within the first 7 miles! I've never felt so drained due to the dryness in Arizona. I still finished a reasonable 15th with a time just over 35minutes just 40seconds off of 10th place.
Stage 2 was the Road Race and that day felt like my day. It was very windy but I'm use to it and the course had just 1 long climb. The first 16mile we were just keeping a steady pace with a few attacks here and there. Then once we hit that climb for a second time, the pace just went wild; we held about 25-26mph for the 2 mile climb with a gradient of about 5-6%. That pace just blew up that whole field with just seven guys (including me) left in the main bunch. I knew this break was going to stick since all the top guys in GC and 5 national champions were in this selected group. Due to the wind, the guy in front of me just swung out and hit my front wheel and knocked me down at the summit of the climb. Unusually the chain popped off and couldn't catch back on without some tools. So my race was about over at that point. That same night I had the worst pain all over. I got 3 stitches from the crash and road rash and cuts all over. That night I had the worst shower and sleep that I can remember.
I still had the criterium as the last stage and I didn't know how I was going to do it. I couldn't stand up on the pedals and could hardly warm up on my trainer. I knew I just had 30 minutes of pain then it was going to be all over.
It turned out, that criterium was one of my favorite and fastest races I've ever done. My adrenaline probably was so high that I hardly felt much pain in my legs and got a 15th place for the day in a pack finish. We had an average speed of 26.6mph and just looking at that speed made my whole weekend and I was really excited.
Even though I had a rough start and a bad crash, I still learned where I stood in the country and gained more confidence and experience. Most importantly I had ALOT of fun.
ROTHE Training supports Elite team at UCI stage race in Central America

February 18, 2011
We are proud to announce that ROTHE Training will be supporting a team of 6 Elite riders from Texas, Arkansas, and Colorado at the XXXII Vuelta Independencia Nacional (UCI 2.2) in the Dominican Republic this coming week as part of the Park Place Dealerships Team.
The 32nd edition of the Vuelta Independencia Nacional is hosted by the Cycling Federation of the Dominican Republic (FEDOCI) and the Union Cycliste International (UCI) and ranked 2.2 on the UCI America Calendar. The race covers 1128km over 10 stages and 8 days. The race is held February 20-27, 2011, and held to celebrate the Independence of the Dominican Republic which it gained on 2/27/1844.
The race serves mainly as a intense training camp under racing conditions and should get the riders ready for their respective goal events throughout the domestic racing season. Mild temperatures (85-90F), medium-length stages (55-100miles), and only one real mountain-top finish should serve as an ideal way to gain some racing fitness. Besides that, the exposure to international competition and racing against National Teams and UCI Continental Teams will be a great experience for the young team with an average of 22years.
Roster, Vuelta Independencia Nacional:
Kolt Bates (22)
Nathaniel Beams (18)
Zach Bergh (19)
Stefan Rothe (29)
Wade Wolfenbarger (23)
Wes Wolfenbarger (25)
To find more information about this event, visit the official race website here.
NEW! ROTHE Training Online Store !

January 11, 2011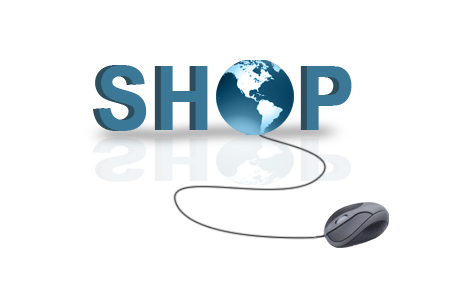 You can now purchase our custom ROTHE Training Cycling Clothing made by Champion System here online! We got Bib Shorts, Jerseys, and various accessories available. Simply visit our new Online Store page!
ROTHE Training athletes win TXBRA Texas Cup Awards!

January 8, 2011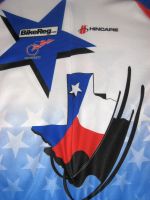 Congratulations to all our clients who won a TXBRA Cup Award in the 2010 race season!

2010 TXBRA Texas Cup Awards - Texas' Best All-Around Women Rider
*Betty Hodges !

2010 TXBRA Texas Cup Awards - State Cup
* Carlo Villarreal, 1st, Junior U15
* Betty Hodges, 1st, Amateur Women
* Christian Bergh, 2nd, Junior U15
* Justin Reddell, 2nd, Novice Men

2010 TXBRA Texas Cup Awards - Central East Regional Cup
* CJ Hebert, 1st, Amateur Men
* Kelley Gomez, 1st, Novice Women
* Carlo Villarreal, 2nd, Junior U19

2010 TXBRA Texas Cup Awards - Central East Regional Cup
* Cody Foster, 3rd, Elite Men
* Kelley Gomez, 2nd, Elite Women
* Betty Hodges, 3rd, Elite Women

2010 TXBRA Texas Cup Awards - Cyclocross Cup
* Betty Hodges, 2nd, Elite Women
New Champion System Custom Clothing Order !

November 12, 2010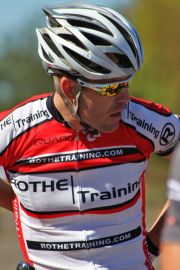 Pre-order your custom ROTHE Training cycling kit now!

The new season is not far away and we offer you a fully custom ROTHE Training Cycling kit including bib shorts, jerseys, skinsuits, speedsuits and socks.

Made by Champion System, all clothing items are made to order. New for this Fall, the Made in Italy, with increased padding "CS Endurance Pad" chamois, for better in-the-saddle comfort on longer rides.

For more information on sizing, pricing, and payment info please Download this PDF Brochure here and/or contact us at info@rothetraining.com or call us at 512-203-2411.
ROTHE Training athletes score wins at Tour de Gruene Time Trials!

November 1, 2010
A Texas cycling tradition, the Tour de Gruene Time Trials attracted a very good field of TT specialist. Carlo Villarreal won yet another time trial this season, while Wes Jerman, Scott Kinsel, and Ruarri Day-Stirrat finished 4th, 5th, and 6th respectively in the top Uber U35 category.
Travis Wilky and Patrick Darragh also paired up for the 2-man team time trial the following day and finished 3rd, behind (repeat) Overall winners Kevin Kremke and John Korioth. For all RT athletes individual and team TT results click here.
Great wins for RT athletes at Tour of Austin!

September 20, 2010
ROTHE Training athletes Carlo Villarreal (Jr. 10-14), Ralph Rust (60+), and Nadia Bararra (Women 4) all took Overall wins in their respective categories at the 2nd Annual Tour of Austin. Carlo won each stage in the Junior 10-14 category, while Nadia won one stage and placed inside the Top 4 three more times to claim the Overall Omnium title.
Christian Bergh (Junior 10-14), Leila Kasprzyk (Women 4), Robert Biard (Cat 2/3) and others scored Top 4 places, too. The 4-day stage race was partly sponsored by ROTHE Training. For all results, visit the RESULTS page here.
Watch the finish of Stage 3, where Nadia Barrera and Leila Kasprzyk go 1-2 in the Women's 4 race below:
ROTHE Training athletes win four State Individual, two State Team titles and more top placings at Texas State Time Trial Championships

August 16, 2010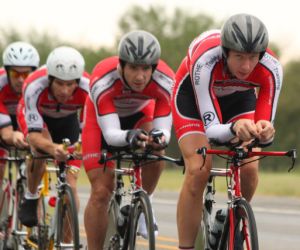 A successful weekend for our athletes at last weekend's Texas State Time Trial Championships held August 14/15 in Floresville, TX: Nadia Barrera (Women's 4), Patrick Darragh (Men's Cat 4), Carlo Villarreal (Boys 13/14), and Cody Foster (U23 Men) each won their respective categories in the run against the clock on Saturday.

Team ROTHE Training - consisting of (Biard, Kinsel, Day-Stirrat, and Darragh) - finished 2nd in Sunday's Cat 2 Team event. Carlo Villarreal scored another Gold in the Junior 15/16 category with his team and so did Christian Bergh who won Gold as part of his team's win in the Boys 13/14 category.

For complete results with times please check the results page here.
Special Tour of Austin Coaching Package

August 8, 2010
The 2nd Annual Tour of Austin is coming up shortly (September 3-6) and it's now time to get in shape and ready for 4 days of awesome racing in Austin, TX! For this occasion, we are offering a special one-month coaching package that will get you race-ready in 4 weeks! All together for only $100!

Coaching package includes:
4-week training-plan leading up to Tour of Austin
FREE TrainingPeaks account
one FREE entry to Driveway Series ($20 value)
no sign-up fees, no minimum term-commitments, no contracts!
Call (512-203-2411) or email us now to take advantage of this limited offer now!
Scott Kinsel winning Driveway Criterium; Nadia Barrera getting 3rd

07/30/10
Cody Foster's Superweek blog

07/25/10
Cody Foster, 19, reports from his first trip to the International Cycling Classic, also known as Superweek! This race series in Illinois and Wisconsin is the longest stage race in the United States and has been held since 1969! Former race winners include Lance Armstrong, Fred Rodriguez, and many others. Read Cody's view of his trip here:
Looking Back on Superweek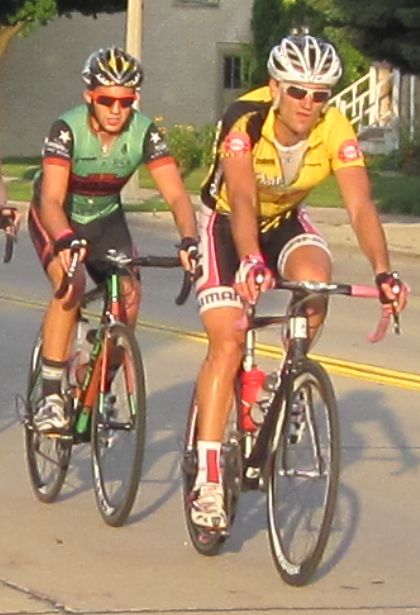 SUPERWEEK has always had this buzz about it being one of the toughest and longest stage races in the U.S. I was competing against guys from all over the world, including some old Tour de France riders and even international pro teams such as Fly V Australia. With all these powerful racers and teams I knew that I would definitely not be one of the strongest racers in these races so I raced very conservatively knowing that any unnecessary effort may backfire on me. Racing alone with only one teammate in the first criterium I did up in Milwaukee was slightly scary because I knew that I couldn't chase down any breakaways and Josh and I would have to follow the attacks that contained riders from the strong teams. I followed wheels and even made it into a breakaway on the first day but the pack wouldn't let us stay up the road. I was disappointed when we were dragged back because the winning break of guys counter attacked upon our return and were gone. With our crits being a 100k or 62 miles long, I thought perhaps the break wouldn't make it but I was wrong, I also never expected to average 50K or 31 miles per hour and then get lapped by the breakaway, I knew the sprint was going to be very sketchy and intense even for a tenth place pack finish. In the final few laps Fly V. set up a two-man leadout train that made moving up nearly impossible. I wasn't feeling amazing at the finish and ended up 12th in the pack sprint and 22nd in the race. The next day the crit went up a steep hill called Brewer hill which didn't look bad at all when I was watching the earlier races, but once the race started I discovered it was definitely a difficult power climb with the P 1/2 field. I again was in the early break which was the wrong break to be in, so I quit working when the pack came in sight and waited for the counter attack. When the counter attack went I was a little too slow to grab the wheels that were attacking away from me, I was in no man's land and I knew I would die out there, so I let off the gas and hopped back into the rushing peloton. 70 laps up brewer hill numbed my legs, but racing with the P 1/2 field definitely taught me how to ride through high levels of pain. In the sprint we went around the last corner at 35 mph and crossed the line at over 40 mph, it was a definitely scary but fun at the same time. I was able to finish 14th in the field sprint which was good for 20th. The two days of racing had me exhausted, I took Sunday off and I was glad when Monday came because the rest of the team showed up to do all the road races. Monday's course was fun and had a nice hill in it, during the middle of our race the rain started coming down and made racing very tricky and the roads slippery I had to be careful who's wheel I was on and how close I got to them, I generally rode behind my teammates because I could generally trust that they weren't going to make any sudden movements. After racing a few races at SUPERWEEK I knew who the sketchy riders were and made an effort to avoid them in the rain. Luckily every race the Elite team did we always had someone in the break so I would just follow wheels in the pack which was not as strenuous as the previous days when I was a lone ranger trying to get into the breaks. Tuesday's course had nice rollers in it and went through the town of South Milwaukee and had a lot of spectators. Wednesday's course went right by Lake Michigan and was an awesome 150k race. Overall SUPERWEEK was an amazing experience and I loved racing up there with some of the best teams around. I also really enjoyed meeting and hanging out with my host family and I hope I can make it back up to Wisconsin next year for SUPERWEEK again.
ROTHE Training to support Texas State Time Trial Championships

07/14/10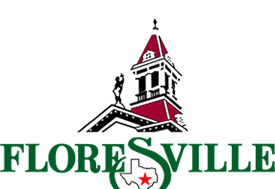 ROTHE Training teams up with Bicycle Heaven to sponsor part of the Texas State Time Trial Championship races, held August 14/15 in Floresville, TX. The State Championships offer various skill-and age-based categories as well as team and "Eddy Merckx"-style events. To find out more about the upcoming event, visit the race website at http://www.texastimetrial.com
Two Wins at the Driveway!

07/09/10


Congrats to Leila Kasprzyk, Winner of the Ladies Night Women's Race



CJ Hebert, Winner of the Men's 3/4 race
(photos by Andrew Willis)
Doug Looney completes Hat-trick at Driveway Austin

06/24/10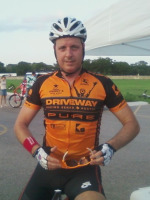 Doug Looney completed a fine and clean hat-trick when he won the 35+ category race 3(!) weeks in a row at the Thursday Night Driveway Race Series.

Doug, racing as a Cat 2 on Team Hotel San Jose, won the first race of the series on June 3rd and never looked back from then on, adding two more Master 35+ wins over the next two weeks (6/10 and 6/17). To put the icing on the cake, Doug worked hard during the last race of the series on June 24, to help his teammate and RT client Casey Crosby secure 2nd place on the day and 2nd Overall behind Doug for the Master 35+ June Series.

Big Congrats to Doug for the "three-peat" and Good Luck the rest of the season!
Cody Foster strong at USAC Collegiate Nationals, continues strong form with win in Texas

05/23/10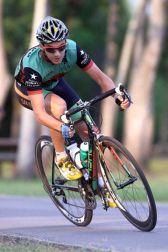 19-year-old ROTHE Training athlete Cody Foster has been steadily progressing over the last few month and showed good form at the most recent USAC Collegiate National Road Championships in Madison, WI.

He spent the majority of the Road Race in the race-winning break-away, which was held at Blue Mound Park; the same hilly circuit course which was part of Chicago's bid for the 2012 Olympics. The cold and wet conditions took its toll on the riders and Cody finished 28th place after helping his teammate to a podium finish. In the Criterium Championships, Cody rode smart, collected a few bonus points for the Omnium, and placed 10th in the final field sprint. For the final Division 1 Omnium, he scored enough points to finish in 11th place. Great results for his first bid at Collegiate Nationals and his first year out of the Juniors!

His upward trend continued this past two weekends: He took 4th place in the P/1/2 races at the Houston Metro Crit and the Houston Grand Crit, respectively. A week later he was part of a 3-man break at the University Oaks Criterium Open Race and won ahead of his own coach and teammate ;-)
Junior athlete Justin McQuerry featured in The Racing Post !

04/01/10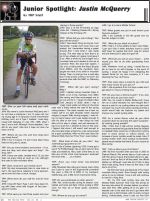 ROTHE Training Junior athlete Justin McQuerry made the 'Junior Spotlight' in this month's THE RACING POST, the biggest monthly cycling magazine in Texas.

Justin, 14, was diagnosed with Type 1 diabetic when he was only 2 years old but that doesn't hold him back to race bicycles in Junior races across the State.

To read the whole story, download the whole article here as pdf.
ROTHE Training presents March/April Series of Driveway Criteriums!

03/18/10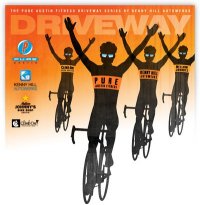 The Driveway Bike Race Series hosted by HOLLAND RACING kicks off tonight at 5pm at "The Driveway", 8400 Delwau Ln in Austin, TX. Weekly criterium racing is offered through October 21 - nonstop! The March/April series is proudly sponsored by ROTHE Training. Come out and race or meet up with friends & teammates!
First Monday Evening Ride of 2010 starts March 15 from Jo's Coffee!

03/11/10
By popular demand and with Daylight Savings Time around the corner, we'll start our Monday Evening Rides from Jo's Coffee on S. Congress again beginning today, Monday, March 15th at 5:45pm.

This is a casual, no-drop, recovery-ride and open to anyone. The route is typically towards South East Austin but subject to change. 20-25miles.

When: Mondays, 5:45pm (sharp!)
Where: 1300 S Congress Ave, Austin, TX
Bike Fits now offered at Austin Tri-Cyclist

03/11/10
Next to the already-in-place Lactate Threshold Testing, we are now offering bike fits at Austin Tri-Cyclist. If you bought a new bike or don't feel 100% comfortable with your current riding position ROTHE Training can help you. With the experience of 15+ years in competitive cycling, knowledge of related coursework in biomechanics, and a know-how of knee-and seat angles, cleat positioning, and aerodynamics, ROTHE Training will evaluate and adjust your position. No matter if you need a fix on your road, TT, cyclocross, or track bike - we can give you the individual fit you need.

To set-up an appointment contact us at info@rothetraining.com
Read about Justin McQuerry's first race at the Driveway

02/15/10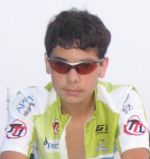 Justin McQuerry (14) from Lorena, TX, did his first race of the year at the Spring Classic Driveway in Austin on Sunday, February 7th. Justin has been diagnosed with Type 1 diabetes at age of 2 but that doesn't seem to slow him down and he's is a tough competitor. Read about his race experience here:

I had just gone to the Mellow Johnny's tent because I had noticed a wobble on my front wheel The guys there said it would be about 5 minutes to fix it. They let me use one of their wheels to do roll-out and quickly repaired and installed my front wheel before I started. After the group of Juniors was started, we stayed together for about a lap and a half. After that, some riders went off the front and one other Junior and myself ended up racing together. We worked together for the whole race and actually passed a few of the Women 4's that had started a minute before us. On the last lap I prepared for the attack and the sprinted all-out for my placing. As we rounded the final turn, I attacked up the middle of the road and won the sprint for 7th place.
Congrats to our 2009 TXBRA Awards Winners!

02/08/10

Last Saturday saw the TXBRA Award's Dinner/Party at Mellow Johnny's and a handful of our athletes got recognized for their athletic achievements during the 2009 road and 09/10 Cyclocross season. Congrats!
Rolando Roman - 1st Cyclocross South Regional TX Cup - Novice Men
Jordan Smothermon - 2nd Road Central TX Regional Cup - Elite Men
Katja Heinicke - 3rd Road State TX Cup - Novice Women
Christian Bergh - 3rd Road State TX Cup - Junior U15
ROTHE Training on site at Austin Spring Classic at the Driveway

02/04/10
Our staff will be on site at the Kenny Hill Autowerks Spring Classic at Driveway Austin on February 7, 2010. We will be working with the promoter and other professionals on teaching Beginners and Cat 5 racers some basic criterium race skills. Checkout the complete race details here and stop by and say Hello!
Get your custom ROTHE Training Kit today, shorts + jersey for $110 !

01/3015/10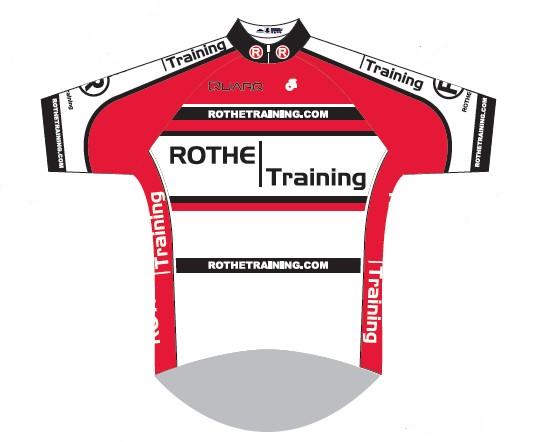 Want to have your own ROTHE Training kit? Well, here's your chance to own a unique red/black/white cycling outfit made by Champion System. Our 3rd batch of custom ROTHE Training Cycling Clothing is being made in Shenzhen, China, right now and will be here by mid-March. Jerseys, bib shorts, skinsuits, FAST aero speedsuits, and socks in both men's and women's sizing will be available for everyone.

We ordered a LOT of extras so if you want to buy something contact us at info@rothetraining.com or call 512.203.2411. For sizing, pricing, and payment info please download this pdf brochure!
ROTHE Training expands Junior Program, adds young guns

01/13/10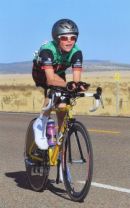 We are happy to announce the expansion of our special Junior Coaching Program and with it the addition of some great young talent to our list of athletes.
Christian Bergh (13, Dripping Springs, TX), Justin McQuerry (14, Lorena, TX), Conor Steward (15, Boerne, TX), and newly U23-rider Cody Foster (19, The Woodlands, TX) are now all working closely with ROTHE Training to manage their training.

We are looking forward to a great new season and wishing them the best to achieve their athletic goals in 2010!
Check out our latest Cyclocross Results!

12/16/09
The off-season is in full swing but we have a handful of athletes racing Cyclocross and competing in Half-Marathons. See for more results here!
Off-Season Special: Lactate Threshold Test + Training for $200 !

11/16/09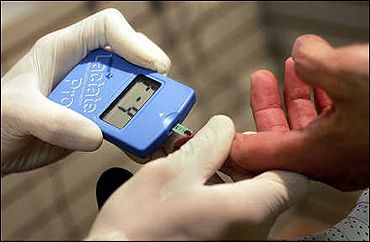 Train smart, not hard! If you're looking to train by science throughout the winter we have the right thing for you: Come in and do a Lactate Threshold Test and get 4 weeks of training - all together for $200. No term-commitments, no consultation fee. Email us now.



Cyclocross Ride on Wednesdays!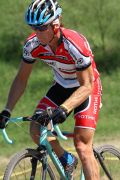 Join ROTHE Training Founder Stefan, clients, and friends on our weekly CX Ride. Mountain Bikes welcome! 1.5-2hrs of fun! Bring some lights!

Where: Zilker Park @ Barton Springs Pool Main Entrance. William Barton Dr, Austin TX
When: every Wednesday, 4:30pm
Why? Because CX is fun. And we don't charge you to ride with your coach!
16-year old Kyle Anderson wins Texas State Championship

10/11/09
Kyle Anderson won today's Junior 17/18 race at the Texas State Road Championships while Travis Wilky finished 3rd in the Men's 30-34 AG. A list of complete results of all clients can be found here.
Come and ride with us - ROTHE Training celebrates its 1-year-anniversary

10/04/09
We are celebrating our 1-year-anniversary tomorrow, October 5th. Come join us for a 1.5hr social, recovery-ride from Jo's Coffee on S. Congress in Austin, TX. Meet at 5:30pm, roll-out is 5:45pm sharp!
ROTHE Training supports the Driveway Race Series

09/30/09

Starting October 1st, ROTHE Training will be the presenting sponsor of the October series at the Nation's most popular weekly night criterium- Austin's own Driveway Come on out and race or cheer for your friends!
Save on entry-fees for San Antonio Premier Cup Cyclocross Races!

09/28/09

ROTHE Training clients will receive a 15% discount when registering for the San Antonio Premier Texas Cup Cyclocross Weekend (10/17-18) by October 1st. Email us for Coupon Code. Thank you Rob Kane & Bicycle Heaven!
Pre-ride the Cotton Patch TT course with our Coach!

09/17/09
ROTHE Training invites you to a 45-60min spin on the Cotton Patch TT course Friday evening, 9/18, at 6pm. Bring your road or TT bike, a friend, a smile and let's ride together tomorrow!

The ride is open to everyone - clients, friends and family.

Meet at: Lamar Elementary School, 6321 Jack Finney Blvd, Greenville, TX 75402

Click here for a map with directions and exact location.
Chappell Hill Podiums

09/14/09
Paul Findell finishes 3rd in his first race of the year at the Chappell Hill Bank Classic. Jonathan Perry scored more points towards his Cat 3 upgrade by finishing 5th in the Cat 4's. To see all Top 10 results of our athletes, click here.
Two wins at Tour of Austin

09/08/09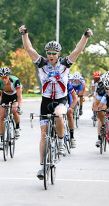 KC Crosby topped the result sheets for ROTHE Training athletes with two back-to-back Crit wins at the Tour of Austin. A complete overview of the latest client results can be found here.
Dr. Davis Hale gives an inside view on his most recent Cyclocross adventures in Houston

09/03/09
Cross lives in Houston. A creature of seasonal appearance, the Yeti (spelled YettiCross), lumbers out of the piney woods for a fall racing extravaganza. The past two weekends, the Yeti has provided opportunities for Houston locals to grind it out at Stephen F. Austin State Park. The course was advertised as a MTB worthy trail. However, I pushed the envelope and raced my cross bike against the fat tire clan. The first week I was honing my handling skills and only crashed out twice on the slick bridges. The second weekend, the course was much dryer. I was able to improve my time and placed ahead of ten racers on mountain bikes (as I was the only idiot on a cross bike). Stephen F. Austin is a great place to ride off road. Check it out if you are in the area. September 2nd was the first YettiCross in the new location (Stude Park). I am confirming this was a tough course…in fact it may be considered epic. My skills had been refined from the past two weekends and I sat in 3rd place on the last lap before pinch flatting my rear. Due to Stefan's excellent coaching, I was able to hold my HR at 190 for the entire 45 minutes even though I felt like puking. Believe me my friend, cross racing is alive and well in Houston.
Read about Jonathan Perry's Hotter'n Hell Hundred Experience

08/31/09
It was a very interesting race, the 4's actually passed the 3's. First we would pass them, then they would pass us.. Finally at the end we overtook them. I jumped out on the front for a few miles trying to see if I could tire anyone out and the pack was all of a sudden a straight line all the way back, I realized at one point the pack had dropped off my wheel so I went for a little bit of a break on my own just to see if anyone would jump on. No luck. We finally start nearing in on the finish, I start making sure I was where I wanted to be, and doing everything I could to keep it. With about 2 km to go, a man went on a break, I followed his wheel and a few others before I heard a crash followed by several others. Nearing in on 1 Km to go, a man went on a break, about 200 meters later seeing that no one followed I went off, leading about 3 or 4 out with me. I made the first left hand turn into the city and accelerated through. After the 2nd turn I knew I was leading out the sprint so I jumped out of the turn, the man I was chasing about 20m in front of me. I sprinted the first 100m out of the turn when I heard one more crash... it turned out to be Brent Neill who's wheel got taken out coming out of the turn, I sat down popped a few gears up and muscled it out. I finished about 20 ft behind first place and had dropped the man on my wheel. Ended up 2 minutes ahead of the Cat 3 second place and one minute behind their first place.
Three Gold Medals for ROTHE Training athletes at Texas State Time Trial Championships!

08/09/09
Multiple podium placings and three State Championship wins for our athletes at this past weekend's Texas State TT Championships. Patrick Darragh won the Cat 5 Individual Time Trial - by two minutes! Check out the full list of results on our Athlete Results Page.
Two starts, two wins at Mineral Wells Time Trial!

07/25/09
Christina and Justin Wolfe each won their respective categories at this weekends Mineral Wells Time Trial in Graford, TX. More results are available at our Athlete Results Page.
We got some more custom ROTHE Training Clothing !

07/15/09
Need a new training kit? Have a TT coming up and want a aerodynamic + wind tunnel-tested skinsuit? We have it! We just received our latest batch of custom ROTHE Training cycling clothing from Champion System. Contact us to see what's still available.
ROTHE Training athletes score wins & podiums in three different States

07/13/09
A win by Bret Crosby at the Cooper Crit in Dallas and a victory in Oklahoma State TT Championships by Christina Wolfe and much more on our Athlete Result Page.
Patrick Darragh keeps getting better and better

06/28/09
Check out the latest Rothe Training Results to find out which of our athletes is getting Top 10's.