Breck Epic 2015 - Rider diary
Breck Epic Diary, final Stage 6, by Robert Biard

August 14, 2015
Race complete!

Mountain bike stage races are all about routine. Every day was the same for me. 6am wake up call, shower, eggs, bacon, potatoes, and one small pancake for breakfast, drop the bags off for the feed zones, work for 20 minutes, change into kit, ride to the start, race, drop off bike for repairs, recovery drink from carborocket, shower, leg squeeze from elevated legs, yogurt, lunch, work, rest, race meeting, dinner, try and sleep.

I skipped the race meeting last night because I went to a concert. I didn't know much about the stage today, the map didn't have an elevation profile, but I figured we would climb a bit, then descend, and repeat a few times.

We started in waves again today which was perfect, pro men, single speed men, and pro women. I have horrible starts. You notice there is no warmup in my routine. Sorry coach. I rode 1.95 miles before the start today, which was the most before any stage this week. I couldn't get my heart rate out of the 140s for the first 5 minutes of the race. Once we hit Boreas Pass Road I was warm and started catching people. We climbed to 10,600 feet, but it was all 6% or less. The first descent was rocky,wet, and a lot of fun. I caught a single speeder and got comfortable riding at his pace. I need to be uncomfortable, if I'm comfortable I'm not going hard enough. I tend to sit behind riders for too long before asking to pass. RIght when I was thinking I really should pass this guy I clipped a tree with my bars, and before I knew it was headbutting a stump across the trail. Doh! I took my glove off and started feeling my face expecting to see blood. I took my helmet off, it wasn't broken, which surprised me given the impact, and noise. Oh well time to catch that sucker. I caught him, and a number of other riders on the climb back up to Boreas Pass. I took it a bit easier than I have all week coming back into town enjoying the last bit of singletrack of my race. The two goals were to finish, and have fun.

Breck Epic exceeded my expectations.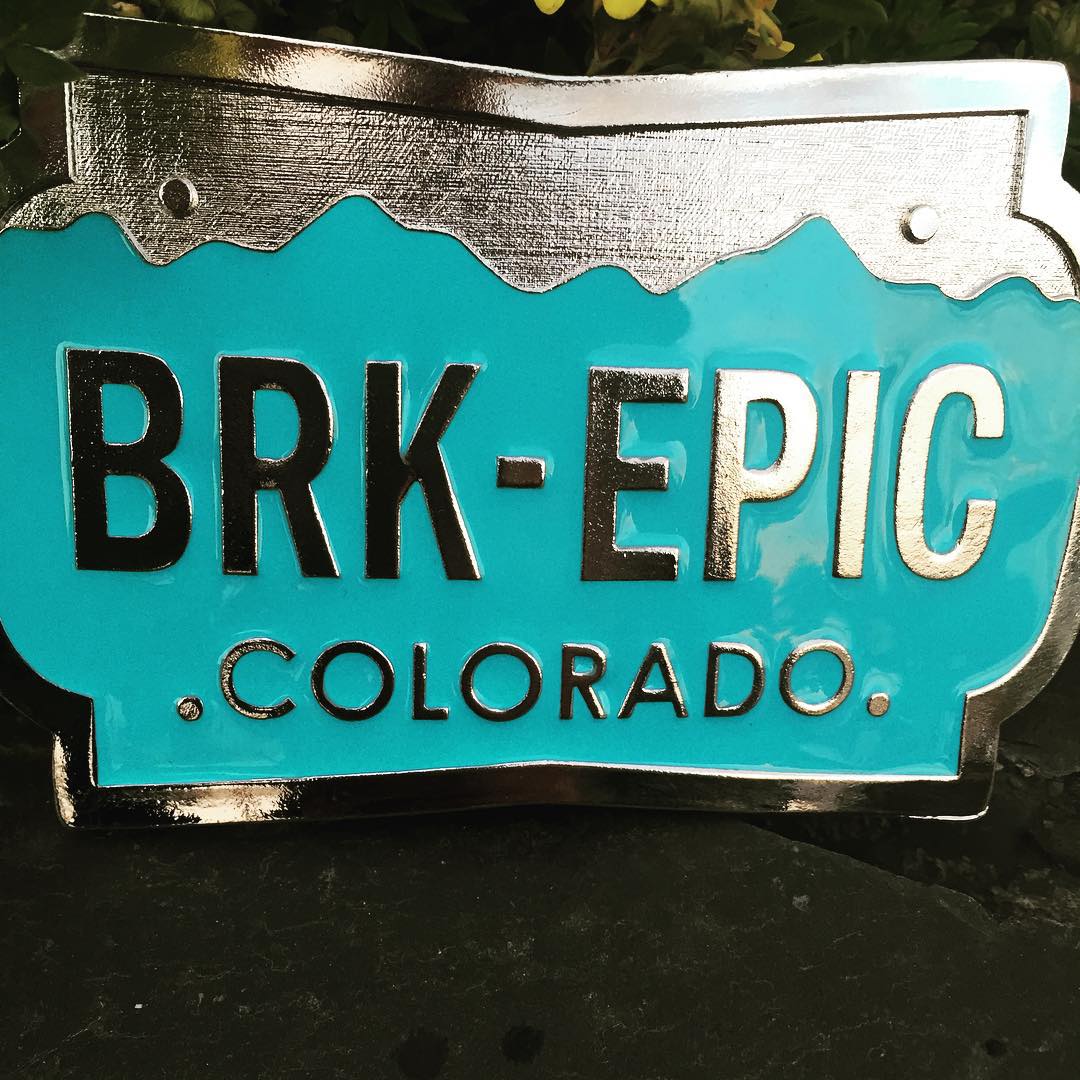 Breck Epic Diary, Stage 5, by Robert Biard

August 13, 2015
Climb over 12,000ft twice, hike-a-bike, very technical climbs, and descents. That didn't sound like a course that I would enjoy, but I knew the views would be amazing.

Elevation is tough. This was the first day that I woke up before my alarm, and didn't wake up feeling absolutely exhausted. The promoters made a nice change and started us in groups of around 10 every minute. We started with a climb from 9,600 feet to 12,400 so it was nice having some space. I held onto the back of my group for the initial climb, and then started to pass a few once we hit Wheeler Pass.I put a bit more effort into my hike-a-bike and actually made up time for a change. The views were spectacular, although enjoying them would be short lived. The trail off the top of Wheeler Pass is narrow, gullied, and filled with rocks that felt like marbles. A few times I took in the landscape for a split second too long and narrowly missed a crash. Once we hit the tree line I knew the trail would get wider, and I'd be riding on more familiar terrain. Little did I remember from the course map that we would be climbing above the tree line, to 12,500 feet again. I was able to ride more of the second climb than most around me, so again I was making up time, on a climb! As we started the major descent there were only two people in my group in front of me, and I had already passed several from groups that started ahead of me. I caught one of the pro women, and just sat on her wheel until a local caught us, then I took off with him. I don't think I've ever ridden a more rocky, root filled, descent, and had more fun. We got to the bottom and had a rolling trail, then a mile climb, before single track to the finish. I followed him through the rolling trail, and then put in an effort up the jeep road climb. 170. I actually got my heart rate over 170, which I don't think has happened this entire race. I finished 21st in the pro men category, and I believe they said in the top 40 overall. I'm pleased with that, and again I had a great time, which is why I'm here.

One stage to go!

Wheeler Pass (photo: Heidi @ Tour de Heart)
Breck Epic Diary, Stage 4, by Robert Biard

August 12, 2015
Today's stage included an eight mile climb, when I saw that I thought this was going to be a really long day. I felt a bit better up the first climb today, but when I hit the first descent I spent a lot of time on my brakes. When we hit a jeep road a few of us split away, and there was nobody in sight. Sometimes it's good to put in a big effort up a climb to get in front of riders that aren't great going downhill. Given that we were only 5 miles into a 42 mile race I wasn't too worried about it. We rode well as a group, until the major climb of the day, which I guess was Keystone Gulch Road. The locals rattle off all the trail names, and I have no idea, I don't have the brainpower to read the trail signs. I just look for the arrows, and the ribbon. The courses have been well marked, although I've heard some hikers have done their best to sabotage the race a couple days already.

We hit aid station two and I was in a group of about 15 riders. I quickly dumped my camelbak, and tried to close the gap to the others that didn't stop. Some guys warned me that this was a very long climb so I decided to settle in at an easy pace. On the map this looked steep and miserable, but after a few miles I still felt great. Climbs below 8% or so have worked out okay for me. When they hit the double digits I tend to lose ground. When the jeep road turned into a trail, I figured we must be getting close to the top, and put in a few small efforts to move up to other groups on the trail. I was actually passing people on a climb, which was a change for me. Just before the top I passed a local, and when I saw the singletrack that I thought was going to go downhill I let him take the lead again. We had a few more climbs, but it certainly paid off once we hit the descent. He was a great wheel to follow for the next six miles.

We hit aid station three, and I felt pretty good so I just kept riding. One more climb, and then a familiar route to the finish. This climb started out pretty steep. I was in no man's land at this point, but was making ground on a couple guys I could see in front of me. I eventually caught them, and was able to ride away on the flats before the descent to the finish.

This is certainly the hardest race I've ever done. The altitude is a huge factor in racing, and recovery. That being said if this were at sea level the race would still be quite difficult. I've heard tomorrow is the hardest stage, and will include significant hike-a-bike sections. Two stages to go.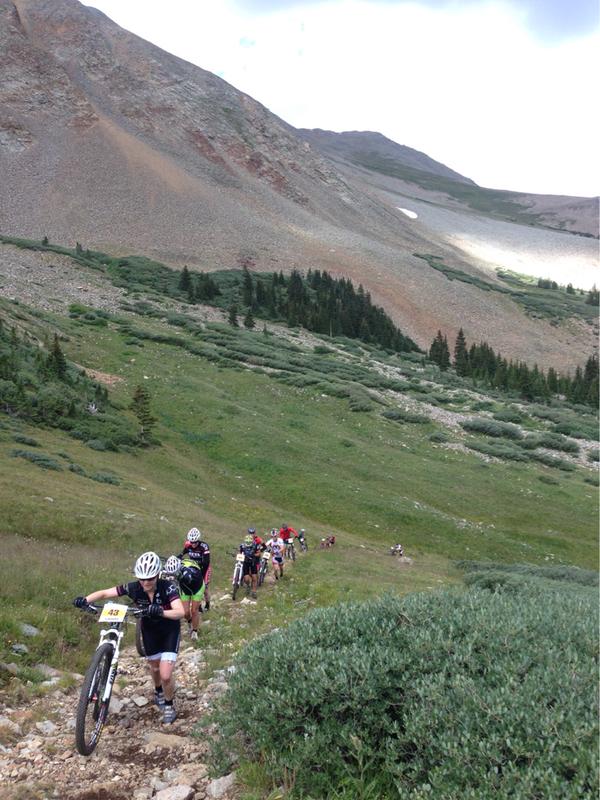 Breck Epic Diary, Stage 3 (Mt. Guyot), by Robert Biard

August 11, 2015
The stage today had four significant climbs, and included two trips across the continental divide. That sounds like a dream come true if you are a local, and weigh 110lbs. I'm neither, and therefore was looking forward to the two descents that had been described in the pre-race meeting.

I woke up feeling exhausted, but I guess that's expected at altitude. I had the same breakfast, 3 eggs, potatoes, and one pancake, that I've had before each stage, and then worked for about 30 minutes before getting ready for the race. I don't remember how many people asked me if I had looked at the weather for today, but apparently there was an 80% chance of rain from the start. Afternoon rain is expected, but rain from the start would be different. I dressed for the best weather, but prepared for the worst, in my pack, and drop bags. There was no rain, which was fine by me. I broke another rule, and tried a new product in my pack today 333 by Carborocket, which was great. I have been using their recovery mix up here, and it's the first I've ever tried that doesn't upset my stomach.

We started in the same place as stage 2, which was great because it would allow me to gauge how I felt relative to the other competitors. I found out pretty quickly that I wasn't feeling that great. I slotted in behind the pro women again once we hit the gravel road, but today it was quite the effort just to sit on their wheel. Most of the first 10 miles were uphill, and I kept them in site, but was consistently losing ground. The 2nd climb was tough, it turned into a hikeabike for most people, including me, near the top. http://reviews.mtbr.com/breck-epic-stage-6-exhilarated-and-exhausted/hikeabike I'm not the best mountain biker by any means, but I'm really bad at hikeabike. The view was amazing, but I knew the only way I was going to make up time today was going downhill so I grabbed some skittles from the Elevated Legs founder Jonathan Davis, and put the bike in the big chainring. The single track was really narrow in most places and had a lip on either side, which made passing a bit of an adventure. I was having a blast, and then I came around a turn covered in bushes, to a guy standing with his bike in the trail. Crash #1 of the week, landed in bush,no big deal, nothing hurts, hop back on and start heading down the trail. Then I attempted to pass another rider, on what started out as trail, but ended up not so much. Crash #2 was spectacular, I tried to merge back into the trail, but my front wheel caught on a rock, and I was airborne, somehow I landed on my feet below my bike. Once we got below the treeline the trail changed, but was still pointed downhill for a good ways before starting the next climb over the continental divide. I was just looking forward to pointing the bike downhill again, and the course didn't disappoint. The next descent was full of rocks, roots, and went on for miles. I passed several riders walking, fixing flats, or just playing it safe. Brain function can be impaired at altitude, I think that's science, or perhaps religion, either way I'm a believer. I don't think I would have ridden some of the stuff today if I had time to think about it. One climb remained, and I just tried to manage my losses. I had one speed today, if I looked down and my heart rate was below 163, I tried to push to get it back there. I lost more time on that climb, and made up a fraction of that on the descent to the finish.

Finish, and have fun, that's why I am here.
Breck Epic Diary, Stage 2, by Robert Biard

August 10, 2015
I woke up this morning feeling exhausted. I was a bit concerned, but after hearing from some other guys that they were destroyed I figured that's just the altitude. The one thing I did notice is my legs weren't fatigued at all. The race organizers requested that all racers lineup behind the starting gate, which certainly seems reasonable to me. I've done enough mass start mountain bike races to know that a good start is key. Breck Epic is well planned, so each stage has a neutral rollout, and then a climb on a road, or jeep road to allow for natural separation. That being said if you are in the wrong group, you are in a position of chasing all day. I got there early, lined up in what I figured would be the 5th row or so. The pro women started lining up all around me, which was perfect. If I'm feeling pretty good on the mountain bike pro women are about my speed. I think it bothers some guys, but I love it. They are steady on the bike, climb well, and their kits typically smell much better than most of the guys. The stage was just over 37 miles, and right around 5,000ft of climbing. The race started and I felt a lot better than I expected after pressing snooze several times this morning. I was able to stay with the pro women most of the race. For the first time in two weeks I was able to keep pedaling once I hit the top of a climb. The climbs were a bit more tolerable today. There were two that had sections that were certainly over 10%, and that's when I struggle. There are a ton of climbs in Texas over 10%, that's great just do a 20 second effort and you are done. Well when your climbs are 3-5 miles, and you aren't acclimated to the altitude punching it isn't the best idea. The single track today was a blast. A number of the transition trails in Breckenridge are on flumes. There is usually about 8-24 inches of nice trail, the top is flat, and either side is banked. Sometimes they are covered in rocks, and they are always built into the side of a mountain so it's a good idea to stay on top. It's a bit like riding the rollers on a road bike, but fun. The descents today were amazing, the longest being almost 7 miles, switchbacks down the side of a mountain, and then a screaming fast trail through a meadow. I did a better job of nutrition today, I ate all my food, and ate the food I stashed in my bags at the aid stations. That's one of the things that I think Breck Epic has nailed. Not everyone can have a soigneur at a bike race. They make it easy, providing numbered bags, that you drop off each morning and are delivered to the two, or three aid stations. As you ride up a volunteer has your bag ready. Brilliant. The only room for improvement today would have been to pre-ride the last few miles. I did a ride with Rob Kane last week that covered probably 8 of the last 10 miles. We rode some of it in the opposite direction, but that was fine I recognized the trail. The last jeep road climb I knew we were going to come around a turn, and hit the single track back to the finish. I was climbing next to guys that were 110lbs, and thought I'll show them. I punched it, dropped them, was climbing free to the..oh..my..we aren't turning there. Oh well, it was another 1.5 miles to the top of that climb, the climbers caught me, but I finished seconds behind them after making up time on the descent. I heard the announcer say I was 21st in my category today, solo open men, which is a few places better than yesterday. I'm here to have fun, and today was a blast. You tend to ride with the same people all week at a stage race, and I'm in good company.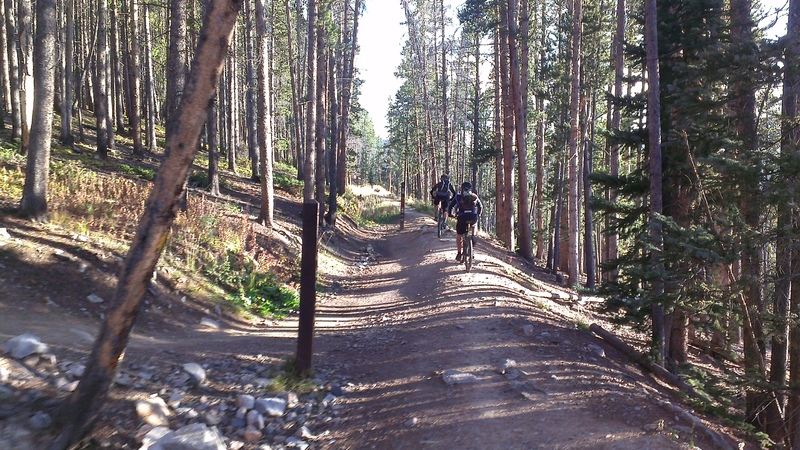 Here is an image of a flume- this one appears to be a bit more hike/bike friendly than some. They can be banked 6 feet on either side, with nothing but rocks to ride on, but you get the idea. I think they are a blast!
Breck Epic Diary, Stage 1, by Robert Biard

August 9, 2015
Brisk morning, it was mid 40s at the start. 350 racers lined up to race either the 3day epicurious or the 6day Breck Epic. The race format is a mass start each day, with a neutral roll out. Somehow I registered in the pro category, and therefore was able to line up in the front. In a Texas XC race I'd say no big deal there are a handful of fast guys that are going to beat me, but that's fine.
The lineup here is premier for a stage race: For the men you have World Champion Alban Lakata along with a few other Topeak-Ergon teammates - which swept the podium, Canadian national champion Cory Wallace, with Barry Wicks and Kris Sneddon, Carl Decker, and a few other pros. You also have the majority of the field from Colorado, which is a huge advantage. The minimum elevation was 9,600 feet, and there wasn't much time spent there, I think that was the warm-up. There was over 5,000 feet of climbing. There were 8 descents that were over a mile. The jeep road descents and single track were where I was at my best and most comfortable. That being said, you go downhill for 4 miles on a mountain bike at 11,000 feet you aren't rest for the next climb. I've never felt more tired after going downhill. It was an absolute blast, but also eye opening the effects of altitude on someone that lives at sea level. I finally was able to get my hear trate over 170 today, and that was when I was very fatigued, I didn't stop at the 2nd rest stop and eat anything. I won't make that mistake again. I'm in the hotel now relaxing. The bike is in the shop getting a post race tune-up. Stage races are all about food, water, and recovery. That's no different for mountain bike than road. Water is tough up here because you never really feel thirsty, I think the high for today was 60 degrees. I know this was long winded, and most won't be this long.
I guess the highlights for me were not getting passed by anyone on Singletrack, but passing a few both there and on jeep road descents. I only got beat by one woman that was wearing a skirt, I was beat by a number of other women.
I listened to the race promoters, and didn't dig too deep today. I had to walk part of one climb, but was able to ride everything else.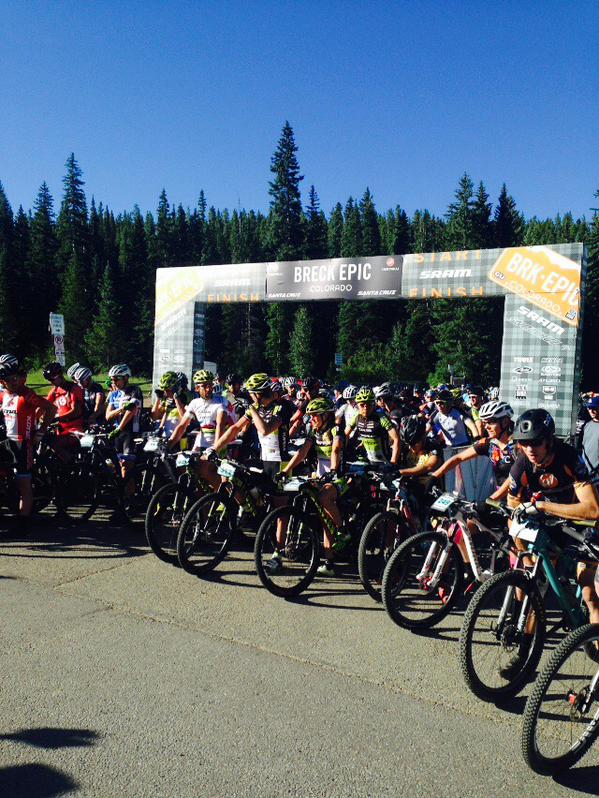 Breck Epic 2015, Solo Men Start Line